Creative Experience is a digital makerspace for independent and collaborative media creation.
Location:
Central Library (1st floor)
1301 Olive Street
St. Louis, MO 63103
Hours:
Monday–Thursday: 11am-7pm
Friday: 11am-5pm
Saturday: 12pm-5pm
Email:
cexp@slpl.org
Pods are available on a walk-in basis. To book the Recording Room ahead of time, call 314-241-2288.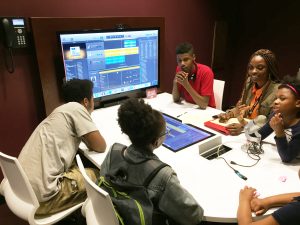 Creative Experience features four Pods and Recording Room equipped with microphones, keyboards, and all the software and hardware you need for digital creative projects.
Creative Experience appeals to pros and novices alike. Users who know exactly what they are doing
will find the required tools. Those without previous knowledge can walk in, view online tutorials, and learn how to fulfill their vision. We offer periodic free workshops for adults and regular free programming for teens and kids.
Creative Experience is your space: Create!
For more information, please see our FAQs or contact cexp@slpl.org
Anyone with a St. Louis Public Library card can use the Pods and Recording Room. Walk in or make a reservation.