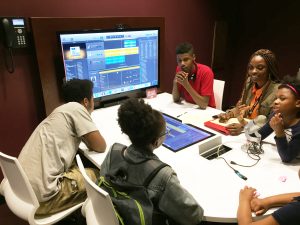 Creative Experience is a digital makerspace for independent and collaborative media creation.
Upon entering Creative Experience, users are presented with Four Pods containing software and hardware for creating, editing, and digitally publishing audio, video, photos, graphic design, and interactive content for the web. Wide-angle web cameras and microphones at each station are available for skyping and recording.
Creative Experience also features a Recording Room equipped with microphones, an eighty-eight key midi keyboard, digital production software, an audio interface, and cables for users to connect their own instruments. In addition to producing music, users can record podcasts, oral histories, spoken word poetry, and other audio projects.
Creative Experience appeals to pros and novices alike. Users who know exactly what they are doing
will find the required tools. Those without previous knowledge can walk in, view online tutorials, and learn how to fulfill their vision. We offer periodic free workshops for adults and regular free programming for teens and kids.
Creative Experience is your space: Create!
For more information, please see our FAQs or contact cexp@slpl.org
Creative Experience is located on the 1st floor of the St. Louis Public Library Central branch at 1301 Olive Street, St. Louis, MO 63103
Hours:
Monday-Thursday: 11am-7pm
Friday: 11am-5pm
Saturday: 12pm-5pm
Anyone with a St. Louis Public Library card can use the Pods and Recording Room. Walk in or make a reservation.