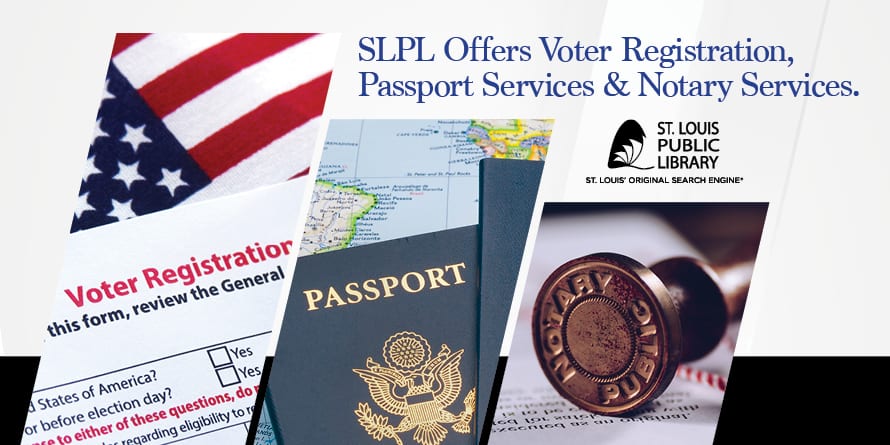 Our Buder, Carpenter, Central, Julia Davis and Schlafly locations are official Passport Acceptance Facilities for the U.S. Department of State.
Buder is located at 4401 Hampton Ave 314-352-2900
Carpenter is located at 3309 South Grand Blvd. 314-772-6586
Central is located at 1301 Olive Street 314-241-2288
Julia Davis is located at 4415 Natural Bridge Ave. 314-383-3021
Schlafly Library is located at 225 North Euclid Ave. 314-367-4120
Passport Service Hours:
Monday, Tuesday, Wednesday & Thursday / 9 a.m. – 7:30 p.m.
Friday & Saturday / 9 a.m. – 4:30 p.m.
Sunday / 1 – 4:30 p.m.
To ensure an agent is available to process your application, call your chosen location in advance to make an appointment.

Fees
Application Fee and any additional services fees. Fees can be determined by visiting the fees page on travel.state.gov., opens a new window
Checks (personal, certified, cashier's, traveler's) and money orders payable to "U.S. Department of State"
Credit and debit cards CANNOT be accepted
$35 execution (acceptance) fee paid separately:
Money orders at all locations, payable to St Louis Public Library
Personal checks and cash (exact change only)
Credit cards.
*Note: SLPL does not offer renewal services.
Frequently Asked Questions
How long does it take?
Each application takes approximately 30-40 minutes to process.
What do I need to bring?
Proof of U.S. Citizenship. Original documents are required and will be returned to you in the mail by the State Department.
Current photo ID
Check or money orders for processing fees.
A color passport photo, 2x2.

(A p

hoto booth is available at Buder Library, $12.99 an image)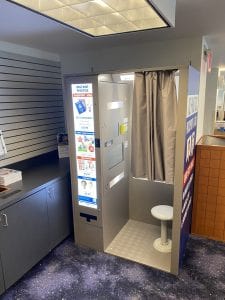 How long does it take to get my passport?
Routine service can take 8 - 11 weeks from the day an application is submitted to the day a new passport is received.
Expedited service (for an additional $60) can take 5 - 7 weeks from the day an application is submitted to the day a new passport is received.
Are notaries available at all locations?
Yes. However we strongly suggest you call before coming to the library to make sure that a notary is available.
What is the fee for getting something notarized?
SLPL does not charge a fee for this service.
When can I come to the library with my documents?
Notary services are available from when we open until 15 minutes before closing, as long as there is a notary available.
If you need multiple documents notarized that are 10 pages or longer, please call us at 314-241-2288 to schedule an appointment with a notary.
What do I need to bring with me?
Please make sure your documents are completely filled out, except for the signature blanks. We cannot notarize a document with blank spaces.
Please don't sign your documents beforehand. The notary needs to witness you signing your document.
Please bring a photo I.D. with you. The notary will need to verify your identity.
If you are bringing witnesses with you, please ask them to bring their photo I.D.s
And please note: In accordance with Missouri Notarial Law (Section 486.700, RSMo), the Notary will ask you to sign their Notary Public Record Book. Service for customers who decline to sign the Record Book will not be provided.
Are there any documents that the Library cannot notarize?
Government Form I-9

Notaries also cannot provide an Apostille (a form that certifies the authenticity of a document that is issued in one country to be used and considered valid in another).

Employment eligibility verification
Documents of conveyance of real estate, mortgages, other real estate loans, documents or transactions or property transfers, such as refinancing or other types of real estate loans, purchases, sales, and beneficial interests in land trusts and deeds.
Notaries may not be able to notarize documents in languages other than English. Please call the Library at 314-241-2288 to learn more.
Can the notary help me fill out or complete my document?
Notaries are not authorized to prepare or complete documents for others or give legal advice on any matter relating to a document.
We do not certify vital records (birth, marriage, divorce, death).
To register to vote in Missouri, you must be a resident of Missouri and a citizen of the United States.
You must be at least 17 ½ years old to register and you must be 18 to vote.
You can register to vote online, by mail, or in person by completing a Missouri Voter Registration Application at the Election Board (for the City of St. Louis: Board of Election Commissioners, 300 N. Tucker Blvd., St. Louis, MO 63101), Department of Revenue/Division of Motor Vehicles, or at any St. Louis Public Library location.
You need to bring acceptable identification if you wish to register in person. Acceptable forms of identification include a Missouri driver's  or non driver's license, U.S. passport or U.S. military id. Other acceptable forms of identification include:
ID issued by a Missouri institution (public or private) of higher education
Copy of a current utility bill, bank statement, paycheck, government check or other government document that contains the name and address of the person
If you've moved within the jurisdiction where you are registered to vote (for example, the City of St. Louis, or St. Louis County), or if you've changed your name, you can also update your information by completing the Missouri Voter Registration Application in person, or online at the Missouri Secretary of State's website.
If you moved between jurisdictions (say, from St. Louis County to St. Louis City), you will need to register in the jurisdiction where you now live and will be voting (again, in person or online).
You can check to see if you are registered to vote by visiting this Missouri Secretary of State site.
Voter registration deadline is the 4th Wednesday before the election - find deadlines for upcoming elections here.
Check out this page for important information about voter registration.