With Central To Your World: The Campaign for the St. Louis Public Library, we made our Library even greater by revitalizing its downtown headquarters — the magnificent Central Library — for the 21st century Library user, ensuring that it continues to meet the needs of our changing world.

The Central Library Project cost a total of $70 million, with $50 million financed from the proceeds of bonds issued by the St. Louis Municipal Library District and the St. Louis Public Library Foundation conducting the $20 million capital campaign, Central To Your World: The Campaign for the St. Louis Public Library, to support it. Headed by Alison Nichols Ferring and Thomas F. Schlafly, the Central To Your World Campaign was the biggest philanthropic campaign ever undertaken on behalf of the St. Louis Public Library.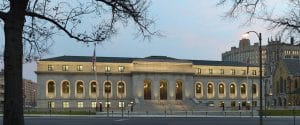 A complete modernization and restoration of this historic structure began in mid-2010. Central Library re-opened to the public on December 9, 2012, and has been going strong. The work has increased the building's public space by 83% and revitalized Central Library for its next century of service.
Highlights include:
• A new Locust Street Atrium entrance, with gathering, browsing, study areas and a café
• 83% more public use space in the Library
• Transformed spaces to house invaluable fine arts collection
• Twice the space for extensive genealogy collection
• New areas for rare maps collection
• A beautiful 244-seat auditorium / theater
• Dedicated children's rooms, offering state-of-the art learning environments for all ages, from storytime and homework help areas to hands-on multimedia experiences
• A new dedicated teen area with comfortable working and gathering areas featuring collections and technology specifically designed to foster young adult learning and success
• New areas for researchers to access and study Central's matchless special collections and rare books, opening them both for easier use as well as protecting them for future generations
Public meeting rooms
• A wireless technology environment offering new ways to access and use the collections
• Cutting-edge technological tools establishing Central as a showcase for the ways developing technology can make our world easier, smarter and more creative
In 1901, philanthropist Andrew Carnegie shared his vision for the Saint Louis community when he offered St. Louis $1 million to expand and enhance its library services.  Supplemented by $1.5 million from the citizens of St. Louis, Carnegie's gift was used to build a new $2 million Central Library and several branches throughout the City. Central Library was built in downtown St. Louis in 1912 and was designed by celebrated American architect Cass Gilbert. Central Library contains the majority of the system's 3.6 million piece collection and serves as the nerve center for its citywide 17 locations.
 Mail your gift to:
St. Louis Public Library Foundation
1415 Olive Street
St. Louis, MO 63103