Downtown is busy with shopping, sporting events, restaurants, concerts, and Central Library! We want to make it as easy as possible for you to get to us.
Meter Parking: 
Parking meters are available on the perimeter of Central Library on Olive Street and Locust Street. Meters are monitored Monday through Saturday, 8 a.m. until 7 p.m., and are free all day on Sundays and City Holidays (FAQ for Meter Parking, opens a new window). Meter payments can be made at pay stations located on the sidewalk near the meters or you can pay using the ParkLouie mobile app, opens a new window.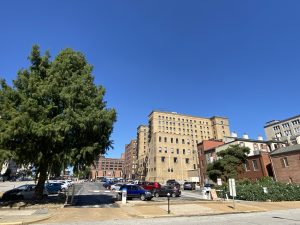 15th & Olive Parking Lot:
Free parking is available for Library Customers at the large surface parking lot located at 15th & Olive. The parking lot address is 1527 Olive Street, St. Louis, MO 63103, and the entrance to the lot is located on the west side of 15th Street between Olive and Locust. Please call 314-241-2288 prior to your visit to request a 4-digit PIN code to enter the lot. From the parking lot, it's a 1-block walk east to Central Library! 
Other Surface Lots: 
There are also numerous parking lots in the downtown area with various rates. See http://www.downtownstl.org/parking, opens a new window for a map of the St. Louis area. If you select Downtown West on this map, you find the lots near Central Library and can also get an estimated cost for the date and length of time!
If you have any questions, please call 314-241-2288 or Ask A Librarian, opens a new window.