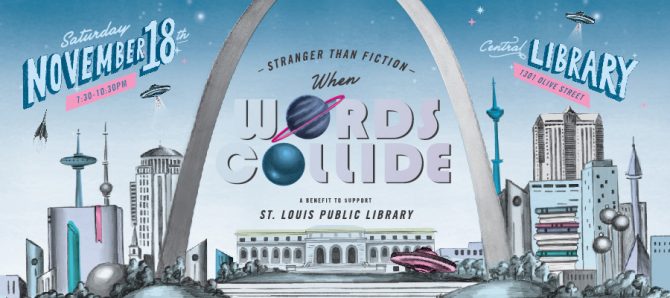 Grab your favorite cyborg and join us for a night of food, drink, dancing, and literary amusement celebrating the Golden Age of Science Fiction.
Date:              Saturday, November 18, 2017
Time:              7:30 – 10:30 p.m.
Where:           Central Library, 1301 Olive Street, St. Louis, MO 63103
Tickets:          $200
Stranger Than Fiction Raffle:
In addition to the Gala fundraiser, Library lovers and science fiction 'geeks' from all over the globe can show their support by purchasing a chance to win tickets to the hottest event in the galaxy, Comic-Con 2018 in San Diego, Calif.
The 1st prize winner will receive two tickets to Comic-Con with hotel accommodations for two nights. The 2nd prize winner will be featured in the Lion Forge comic, "The Lion's Den." All prizes courtesy of Lion Forge Comics.
Raffle tickets are $25 each or $100 for five. Click here to purchase. Need not be present to win.
Event Chairs
Megan and Tom Wall / Erica and Bryan Willert
Stranger Than Fiction: When Words Collide!  Event Committee
Catherine and Matthew Aplington
David A. Blanton III
Catherine and David Brown
Lisa and Tom Carnahan
Katheryn B. Davis and Michael Fenwick
Sarah J. Davis
Yvette and John Dubinsky
Karelia Rajagopal and Patrick Eckelkamp
Carolyn and Kevin Farrell
Alison and John Ferring
Jenni and Richard Gemberling
Barbara Bushman Goodman
Jan and Ron Greenberg
Jessy and Scott Hancock
Judy and Harvey Harris
Jeff Kapfer
Anne Leners and Dr. Daniel Cook
Mai McLaughlin
Jill and Larry Otto
Meghan Putnam
Sue and Joe Rechter
Janet and Lee Rodgers
Ellen Sherberg and Dr. Jerry Rosenblum
Lucinda and Dr. Paul Santiago
Susan and Paul Sauer
Keith Savage
Ulrike and Tom Schlafly
Laura and Paul Shaughnessy
David Sweeney
Pam and Greg Trapp
Nathan Underhill
Laura and Matt Villa
Ted Wight
Sydney Loughran Wolf and Andreas Wolf
Erin and John Wright
Phyllis J. Young

Stranger Than Fiction: When Words Collide!  Event Sponsors
Rocket Commanders: Alison and John Ferring and Ulrike and Tom Schlafly, Sycamore Tree Charitable Trust
Mad Scientists: Yvette and John Dubinsky, U.S. Bank and Willert Home Products.Cyborgs: BSI Constructors, Inc., DFC Group, Deborah and Bob Dolgin, Hope and Julian Edison, Edward Jones, Lashly & Baer PC, Monsanto Company, St. Louis Business Journal and Washington University
Rayguns: Ameren Missouri, Capes Sokol, Commerce Bank, Dielmann Sotheby's International Realty, Husch Blackwell, Lewis Rice LLC, Lion Forge, Pride of St. Louis Redevelopment Charitable Fund / Harvey and Judy Harris, St. Louis Public Radio, Laura and Matt Villa and Young Dental
Androids: Anonymous (2), David A. Blanton, III, Stephen F. and Camilla T. Brauer, Catherine H. and David W. Brown, Jack Coatar, Anne Leners and Dr. Daniel Cook, Sarah Davis, Davis & Travaglini LLC, Gerald and Ida Early, Sara Epstein, Carolyn and Kevin Farrell, Fox Family Foundation, Jenni and Richard Gemberling, Barbara Bushman Goodman, Jan and Ron Greenberg, Nancy and Ken Kranzberg, Isabelle and Jean-Paul Montupet, Jill and Lawrence K. Otto, Deborah J. Patterson, Mr. and Mrs. Raymond W. Peters, The Prufrock Foundation, Joe and Sue Rechter, Janet and Lee Rodgers, Rome West Realty-Susan Sauer, Dr. Stephen P. Ryan and Christina Ryan, Joe and Mary Anne Sedey, Teg and Frank Stokes, Perry and Don Streett and Phyllis Young
Additional support provided by: Butler's Pantry, Coast a Message, Dierbergs, El Gato Gomez, Intoxicology, Schlafly Beer, Star Lane Wines, The Pasta House Company and T.S.V. Sound and Vision