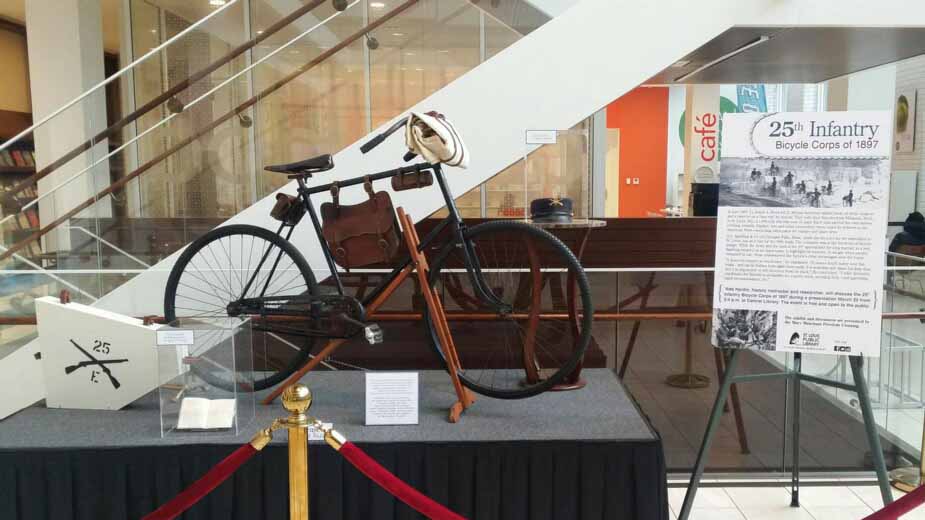 In June 1897, Lt. James A. Moss led 20 African-American infantrymen, an army surgeon and a reporter on a "test trip" by bicycle. They rode their bicycles from Missoula, Mont., to St. Louis, Mo., a 1,900-mile trip that took 41 days. Each man carried his own rations, cooking utensils, blanket, tent and other necessities rarely toted by soldiers in the American West—including extra parts for repairs and spare tires.
The bicycle and other items from the 25th Infantry are on display throughout March in the First Floor Atrium at Central Library, 1301 Olive Street.
Wes Hardin, history instructor and researcher, will discuss the 25th  Infantry Bicycle Corps of 1897 during a presentation March 25 from 2-4 p.m. at Central Library. The event is free and open to the public.
A.G. Spalding & Co. of Chicopee Falls, Mass., made the bicycles for the expedition to St. Louis, just as it had for the 1896 trials. The company was at the forefront of bicycle design. While the Army and the men of the 25th  approached the long journey as a test, Spalding seized it as an opportunity to highlight its bicycles. In an age when cavalry remained in use, Moss underscored the bicycle's clear advantages over the horse.
The bicycle was built to Moss' specifications to handle the rigors of the road, its military two-wheelers were fitted with steel rims, puncture-proof tires, reinforced forks and enclosed gear cases that protected the chains from dust and debris.
In addition to their 32-pound bicycles, the soldiers also carried a 10-pound rifle, 50-round cartridge belt and a 10-pound blanket roll that contained military supplies including a tent, underwear, socks, toothbrush, powder and food rations. Loaded down with all of the supplies, the bike weighed 59 pounds.
"It does not require as much care," he explained. "It moves much faster over fair roads…and can be hidden from sight more easily. It is noiseless and raises but little dust, and it is impossible to tell direction from its track." He concluded, "Under favorable conditions the bicycle is invaluable for courier work, scouting duty, road patrolling, rapid reconnaissance, etc."
The exhibit and discussion are presented by the Mary Meachum Freedom Crossing.