It happens all the time. An assignment that made perfect sense in class now leaves you shaking your head. It's enough to drive you nuts! But don't let frustration get you down. The Library's Homework Helpers can aid in getting you over that scholastic hump.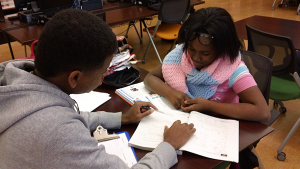 Homework Helpers understand how confusing algebra problems, chemistry formulas, history assignments, research, and paper writing can be. Although the Helpers are not tutors, they can explain the assignments in ways that make tasks intuitive. They'll also help you focus on your project so you don't get distracted.
Homework Helpers are available in every Branch except Central Express, Charing Cross, and Marketplace. Availability varies by location, so be sure to call your favorite Branch for details.
Plus, teens can earn Library Bucks when they work with a Homework Helper. For every 30 minutes a teen spends with a Homework Helper, they earn $1 in Library Bucks. The brightly colored Bucks can be "cashed in" for school supplies or used to pay off Library fees and charges.
Since it began in 2008, Homework Helpers have assisted thousands of teens in getting on track to achieving better grades, and they can help you too. Don't let temporary trouble derail you in reaching your goals. Sign up to work with a Homework Helper today!