I have often wondered who made the common names of herbs? Why do we call some herbs by more than one name? For example, in North America, this herb, whose Latin name is Coriander sativum, is known as Coriander. However, where it is native, in the Mediterranean, it is known as Cilantro. It is the same plant where we get coriander seeds.
Coriander is in the Umbellierae family, which is where other delicate, leafy topped plants such as dill, chervil, fennel, parsley, carrots, and parsnips are also members.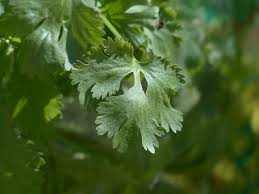 We can often find coriander seeds on our market shelves that come from Morocco and Romania. These small, brown ridged seeds, when combined with other spices, are known as garam masala.
It has been used as long as 8,000 years ago by the Israelites. The leaves were mentioned in Sanskrit texts that date back to nearly 7,000 years ago. As well, cilantro was mentioned on an Egyptian papyrus. It was also found in King Tut's tomb! In the Exodus 16:31, the Bible mentions coriander,"And the house of Israel called the name there of Manna: and it was like coriander seed, but white; and the taste of it was like wafers made with honey."
I enjoy the thin, feathery leaves, as an addition to a delicious lamb tangine. It is often called Chinese parsley becasuse it is found in every Asian cuisine, except Japan.
You will definitely find coriander in East Indian, Middle Eastern, and North African foods.
Here's a delicious recipe that is based on a recipe developed by the American Lamb Board.
Ingredients:
1 lamb shank per person
4 cloves garlic finely chopped
2 teaspoons cumin
1/2 teaspoon salt
juice of one lemon
Preheat oven to 350 F.
Before cooking, rub the above ingredients over lamb shanks and let rest in a plastic bag overnight. Once oven is at 350 F, place lamb shanks, and rest of the ingredients in a covered tangine.
To add to your dinner, try making the following cilantro gremolata.
Ingredients:
3 tablespoons finely chopped cilantro leaves
3 gloves garlic, finely chopped
Finely grated zest of 1 large lemon
Mix these ingredients to make your cilantro gremolata. This dinner goes well with rice and lots of sauce. Yummy delicious!