Yoga in a holistic approach to health and well-being that embodies unity of mind and body; thought and action; restraint and fulfillment; harmony between man and nature. Yoga has been proven to develop flexibility and balance, increase muscle strength and endurance, improve cardio and respiratory fitness, and enrich energy and vitality. Aside from the physical benefits, the incorporation of meditation and breathing in yoga can help improve a person's mental well-being. Regular yoga practice creates mental clarity and calmness, increases body awareness, relieves chronic stress patterns, relaxes the mind, centers attention and sharpens concentration.
The International Day of Yoga was created to educate about the benefits of this ancient Indian tradition, and to encourage people of all ages to incorporate yoga ideology into daily practice. Celebrated annually on the summer Solstice, but due to social distancing restrictions, the world is encouraged to participate in International Day of Yoga virtually on June 21. The My Life – My Yoga blogging competition strives to raise awareness about yoga and to inspire participation with the entire family according to the 2020 theme Yoga at Home and Yoga with Family. 
The library has many resources to help you start or deepen your yoga experience…or experiment: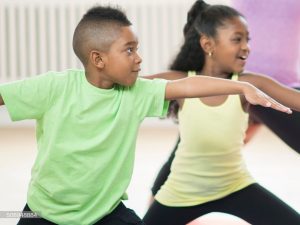 Does the thought of crazy contorted, gravity-defying poses scare away even the thought of trying yoga? Breathe deep. It is normal - and healthy - to take a step back and snort at the absurdity of not only some seriously unfathomable poses, but the fact that you tried them in the first place…raucous laughter is as equally healing as finding your inner Zen. 
Namaste