Gift-wrapping should enhance your gift, adding excitement and temptation for it to be opened. Check out some inexpensive and creative gift wrapping ideas in these titles from our digital collections!
Review provided by Hoopla
Wrap anything from a wine bottle to a yoga mat with this practical Japanese fabric-wrapping book. Long before today's eco-friendly philosophy of "reduce, reuse, recycle" entered America's collective consciousness, furoshiki-the Japanese method of wrapping things with fabric-nourished as a time-honored and practical art form. In Wrapping With Fabric, Etsuko Yamada-born into a long-line of furoshiki makers in Kyoto-explains the "one cloth, many uses" ideology behind the craft, the etiquette of color and the craft's fascinating history. From there, she shares the myriad ways in which a few basic techniques can transform a simple square of cloth into an elegant wrapper. Use your folded fabrics to: Gift-wrap anything from books to flowers Bundle up a picnic Tote items ranging from wine bottles to yoga mats Use as a handbag or backpack Make into a pillow covering Create decorative coverings for vases, tissue boxes, and more. A quiet reminder that opportunities for artistry are everywhere around you, Wrapping With Fabric is the craft book that makes it easy to bring a touch of grace and ingenuity to everyday life-and help preserve the environment, too.
Review provided by OverDrive
With just a few simple steps, blogger Sally J Shim shows readers how to turn an ordinary package into a customized present as special as the gift within. From a stitched garland topper and watercolor wrapping paper to a confetti gift tag, each of the 45 creative and achievable projects offers a unique twist on gift wrapping. Plus, each project has multiple variations, leading to endless possibilities for prettying up packages. Including techniques for wrapping oddly shaped packages, ideas for creating reusable packaging (a bonus gift for the recipient!), and projects that require only basic materials, Pretty Packages will inspire gift givers as well as Etsy shop owners to make every element of their package special.
Review provided by Hoopla
How to tie perfect, creative bows for craft projects and gift wrapping. Bows are a gorgeous part of many craft projects including wedding and holiday decorations, faux and fresh floral designs, sewing for home and fashion, even scrapbooks and cards, not to mention giftwrap. However, almost everybody finds bow-making tricky. Creative Bows Made Easy shows and tells how to make a perfect bow every time.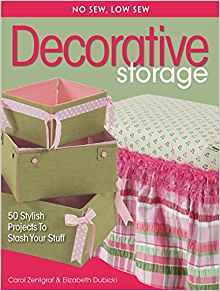 Review provided by Hoopla
The saying is true: you can never have too much storage. And now, creating beautiful hatboxes, shoe racks, baskets, and even tuffets and ottomans that can be used for storage, has never been easier. Many of these inexpensive projects can be completed with a hot glue gun, basic hand stitches, and other fast and easy techniques.No Sew, Low Sew Decorative Storage offers 40+ inexpensive and easy-to-make projects of all sizes that can be used throughout the house. Anyone with basic sewing or crafting skills can successfully follow the step-by-step instructions and 200 photos to success in organizing their entire household in beautiful style.