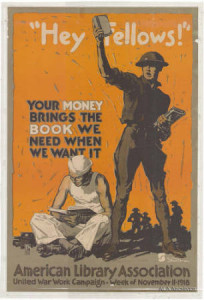 Did you know that the Library War Service was established in 1917 by the American Library Association?  Librarians across the country campaigned heavily to have books donated to public libraries so they could be sent overseas, providing books and other services to soldiers serving in Europe during World War I.
As you'd imagine, soldiers in the trenches sought solace in any way they could, and that included good books. Reading not only provided a sense of comfort and relief, but books boosted morale. Men who remained static in cramped and uncomfortable conditions found that reading could take their minds off of their situation. While it's difficult to imagine being able to read under those conditions, it's not hard to believe that reading would have given them a bit of escapism.
This article, from American Libraries magazine, includes this bit about St. Louis Public Library: "The St. Louis Public Library hosted numerous events in the main library and branches across town. The Crunden branch conducted a dance in the reading room, where a Filipino orchestra whose members wore native costumes played music from behind the circulation desk. Dancers paid an admission fee (which ALA used to buy books for the campaign) or donated a book. The Carondelet branch hosted a chaplain from a nearby training camp to lecture on camp life and the soldier's need for reading materials."
If you'd like to learn more about the Library War Service, we also have some books in the collection (which are old and pretty cool!), including: Missouri in the Library War Service
and Books in the War