Use your library card to check out full episodes of these classic TV shows from Hoopla Digital. Television episodes checkout for 72 hours (3 days) at a time, and a total 10 titles can be checked out each month. Start your trip down memory lane today with the families from these classic shows, and be sure to check out all of the other fun and exciting materials offered from Hoopla Digital.
Based upon the Pulitzer Prize-winning book by Larry McMurtry and set in the late nineteenth century, this sprawling epic of the Old West is the story of the last defiant frontier, a daring cattle drive, and an undying love. Augustus McCrea (Duvall) and Woodrow F. Call (Jones), former Texas Rangers, are partners and friends who have shared hardship and danger. Gus is the romantic, a reluctant rancher who has a way with women and the sense to leave well enough alone. Call is a driven, demanding man, a natural authority figure with no patience for weakness. He is obsessed with the dream of creating a new homestead. The two men could hardly be more different, but both are tough fighters who have learned to count on each other, if nothing else. Call's dream not only drags Gus along in its wake, but also draws in a group of fearless wranglers, trackers, and scouts. Through sandstorms, stampedes, bandits, floods and snow, these characters live on to become legends of the great American West.
A rollicking, fictionalized account of the life of Martha Jane Canary, better known as Calamity Jane, as she cuts a wide swath through the Old West. Based on Larry McMurtry's novel, this story also features Buffalo Bill, Annie Oakley, Sitting Bull and other Western legends.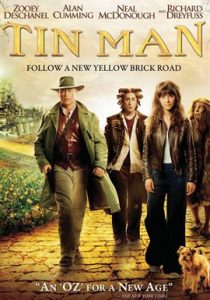 An imaginative reworking of The Wonderful Wizard of Oz," with modern-day twists. A leather-clad, soul-sucking sorceress named Azkadellia has scorched the once-beautiful O.Z. into a desolate wasteland. Its only hope lies with an "outsider" named DG, a young Midwestern woman, whose troubling dreams have summoned her to the doomed paradise. She not only changes the fate of the O.Z. but discovers, as well, her own destiny in this strange new world.
See how men like Daniel Boone, Wyatt Earp and 'Doc' Holliday became frontier legends in their quest to keep the peace and stay alive. Witness some of the most infamous events in American history through authentic re-enactments, historical accounts and archived photos. This unique six part documentary series examines the personalities, weapons, tactics and corruption that made outlaws, lawmen, scouts, gunslingers and professional gamblers became American folk heroes.