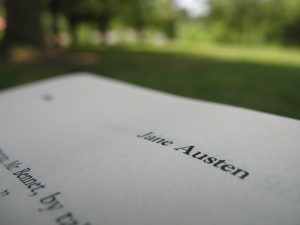 Jane Austen died July 18, 1817—two hundred and two years ago this month; although buried over two centuries ago, her allure was clearly not buried with her. Regency ideals and the degradation of female authors led to Austen's books being attributed to simply "a lady." In her lifetime, Austen reached modest monetary success—the four books published in her lifetime earning a total of £684 ($67,456 today). Like many artists, Austen's status as a cultural icon and household name was reached posthumously.
The Austen craze can be traced back to 1870, when her nephew published an idealized memoir, and built the foundation for what is described as the Cult of Jane Austen. By 1890, ten new editions of Austen's novels, as well as three memoirs, had been published, and in 1894, fans claimed the title of "Janeite." The modern Jane Austen Societies were first founded in 1940 and still remain active today, with diverse and international chapters. Beginning in 1938, Austen's novels found their place on the silver screen with Pride and Prejudice, and more recently in 1995 with that Colin Firth lake scene (or even 2005 if you prefer Matthew MacFayden resolutely marching through a misty field). In fact, the onslaught of Austen film adaptations in 1995 caused Entertainment Weekly to rank Austen at number ten of Entertainers of the Year. More significant to us at Center for the Reader, however, are those following in Austen's literary footsteps, creating an abundance of fiction novels that keep the beloved author's stories and cultural fascination alive. Continuations of her novels, loosely inspired modern tales, retellings, and even mysteries starring Austen herself, pepper library shelves. The timeless nature of Austen's wit, romance, and understanding of society, continue to inspire in 2019. We encourage you to explore one of her own publications or perhaps the plethora of modern authors she has inspired.  
Old Friends and New Fancies
by Sybil G. Brinton
The first Jane Austen sequel ever written! Originally published in 1914, this original sequel to the novels of Jane Austen, intertwines the lives of the most beloved characters from all six Austen novels with new characters of the author's devising.
Pride and Prejudice and Zombies
 by Seth Grahame-SmithPride and Prejudice and Zombies features the original text of Jane Austen's beloved novel with all-new scenes of bone-crunching zombie action.
The Three Weissmanns of Westport by Cathleen Schine
Jane Austen's beloved Sense and Sensibility has moved to Westport, Connecticut, in this enchanting modern-day homage to the classic novel.
The Dashwood Sisters Tell All
by Beth Pattillo
Ellen and Mimi Dodge have never been close. But their mother's dying wish sends them on a walking tour of Hampshire, England, that follows the footsteps of Jane Austen. Their mother also left them something else: a diary that belonged to Jane's sister, Cassandra. These pages, hidden for centuries, shed light on the secrets that nearly tore the Austen sisters apart and inspired one of the greatest love stories of all time.