"Never Trust Anyone Under Seventy-Five" is the motto of the Gladdy Gold Detective agency, a group of mystery-solving women of advanced age in Getting Old Can Hurt You, a novel by Rita Larkin. This age-embracing sentiment demonstrates the often expansive view of aging offered by fiction, much of which is adept at creating great stories around issues important to elderly people, as well as both acknowledging and flouting stereotypes about aging. Take the 2013 novel, Amy Falls Down, by Jincy Willett, in which an unexpected fall becomes a spectacular plot twist, with positive, life-changing repercussions for the aging protagonist. Another novel with a fall central to the plot is Like a Mule Bringing Ice Cream to the Sun by Sarah Ladipo Manyika. The 75-year old main character has to learn to accept help from friends and strangers after her unfortunate tumble, but it ultimately results in many fascinating encounters. Lesson? Life is always changing, particularly as we age and become vulnerable to physical limitations; it also always presents us with plenty that is new and worthwhile if we're open to it. A note to the young and young-ish—to assume these novels aren't relevant would be a mistake, because 1) we'll all get there eventually (if we're lucky!), 2) it's always good to consider what's ahead, and 3) these are really great books!  Additionally, reading novels with elderly characters is a great way to mark an important day that just went by: October 1st was International Day for Older Persons. Check out these books and see how fiction tackles the years, one page at a time. Consult this list for even more!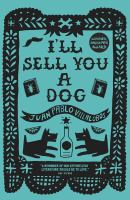 I'll Sell You a Dog by Juan Pablo Villalobos
Long before he was the taco seller whose "Gringo Dog" recipe made him famous throughout Mexico City, our hero was an aspiring artist. An artist, that is, till his would-be girlfriend was stolen by Diego Rivera, and his dreams snuffed out by his hypochondriac mother. Now our hero lives in a retirement home, where fending off boredom is far more grueling than making tacos. Plagued by the literary salon that bumps about his building's lobby and haunted by the self-pitying ghost of a neglected artist, Villalobos's old man can't help but misbehave. He antagonizes his neighbors, tortures American missionaries with passages from Adorno, flirts with the revolutionary greengrocer, and in short, does everything that can be done to fend off the boredom of retirement and old age—while still holding a beer.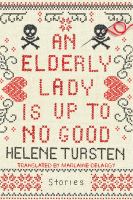 An Elderly Lady is Up to No Good by Helene Tursten
Maud is an irascible 88-year-old Swedish woman with no family, no friends, and…no qualms about a little murder. This funny, irreverent story collection by the author of the Irene Huss Investigations series, features two never-before translated stories that will keep you laughing all the way to the retirement home. Ever since her darling father's untimely death when she was only eighteen, Maud has lived in the family's spacious apartment in downtown Gothenburg rent-free, thanks to a minor clause in a hastily negotiated contract. That was how Maud learned that good things can come from tragedy. Now in her late eighties, Maud contents herself with traveling the world and surfing the net from the comfort of her father's ancient armchair. It's a solitary existence, but she likes it that way. Over the course of her adventures—or misadventures—this little bold lady will handle a crisis with a local celebrity who has her eyes on Maud's apartment, foil the engagement of her long-ago lover, and dispose of some pesky neighbors. But when the local authorities are called to investigate a murder in her apartment complex, will Maud be able to avoid suspicion, or will Detective Inspector Irene Huss see through her charade?   
The Lemon Table by Julian Barnes
In his widely acclaimed new collection of stories, Julian Barnes addresses what is perhaps the most poignant aspect of the human condition—growing old.
The characters here are facing the ends of their lives, some with bitter regret, others with resignation, and others still with defiant rage. Their circumstances are just as varied as their responses. In 19th-century Sweden, three brief conversations provide the basis for a lifetime of longing. In today's England, a retired army major heads into the city for his regimental dinner—and his annual appointment with a professional lady named Babs. Somewhere nearby, a devoted wife calms (or perhaps torments) her ailing husband by reading him recipes. In stories brimming with life and our desire to hang on to it one way or another, Barnes proves himself by turns wise, funny, clever, and profound–a writer of astonishing powers of empathy and invention.              
All annotations courtesy of goodreads.com.