Most people are familiar with the old adage, "The apple doesn't fall far from the tree." Ralph Waldo Emerson introduced the phrase in 1839. We inherit a lot from our parents: like height and hair color, but in the case of many of our favorite authors they also inherited...talent. There are endless courses and books on how to be a great writer, but they don't mention the hereditary element of creative skill. Recently, a study on this same subject found "statistically significant familiality and heritability element to creative writing." While we are between celebrating May's Mother's Day and June's Father's Day check out these talented authors, with large literary shoes to fill, all available online!
---
Joe Hill
Reading Hill's work you could potentially guess his literary lineage, although Hill intentionally created his pen name to avoid the discovery. Born Joseph Hillström King, he managed to keep his secret until 2007 when it became impossible to deny the similarities between him and his father Stephen King. Like his father, his works have been popularly adapted to screen, with big names like Daniel Radcliffe (Horns) in starring roles. 
Nick Dybek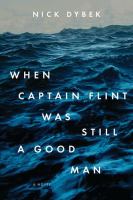 Dybek claims he never meant to follow the literary career of his father, Stuart Dybek. It wasn't until later in life that Dybek realized he could "make it [his] own thing." Luckily, we have his first novel, When Captain Flint Was Still a Good Man, available now as a streaming audiobook!
Nick Harkaway
The son of author John le Carre and book editor Valérie Jane Eustace, Harkaway had literary influences from both parents. Interestingly, Harkaway's work shows that both father and son have a penchant for espionage tales. 
Emma Straub
As the daughter of horror and suspense writer Peter Straub, Emma Straub's common genre classification as contemporary fiction, and women's fiction (or chick lit), is a major departure. Straub noted, in a 2015 interview for Real Simple magazine, that her father was enthusiastic about her work...until her success began to rival his and his feelings became complicated. Emma also notes the difficulties of being "the female offspring of powerful men" in the same field. However, Emma Straub's multiple appearances on the New York Times Bestseller List show that they truly are professional equals. 
Martin Amis
As the son of Sir Kingsley Amis, one of the most famous English novelists of the 20th century, Martin had big shoes to fill. One of his best known novels, London Fields, is available as a streaming audiobook now, so you can decide for yourself whether or not he was successful. 
Todd McCaffrey
In 1967, Anne McCaffrey began her Dragonriders of Pern series. In 2003, she began to involve her middle child, Todd, in the series. Since then he has written novels continuing the series both solo and jointly with his mother. The series is now comprised of 23 novels and many short stories. 
Charles Todd
Charles Todd is both the name of author Caroline Todd's son, as well as the pen name the literary duo use for their series set in post World War I England. 
Roy Johansen
Interestingly, there seems to be a real trend in mother-son literary duos. Iris Johansen is a prolific author, tackling both the genres of romance and suspense. The duo had discussed writing together for years before they found a subject that could showcase both of their talents. Now our catalog shows the mother-son literary pair is on a roll...