If you've been looking forward to director Ava DuVernay's film adaptation of Madeleine L'Engle's classic science fiction fantasy novel for children, A Wrinkle in Time, Rare Books & Manuscripts would like to share with you our very special copy of the treasured tale. Originally published in 1962, A Wrinkle in Time won L'Engle the Newbery Medal, the prestigious prize awarded yearly to "the most distinguished contribution to American literature for children.", opens a new window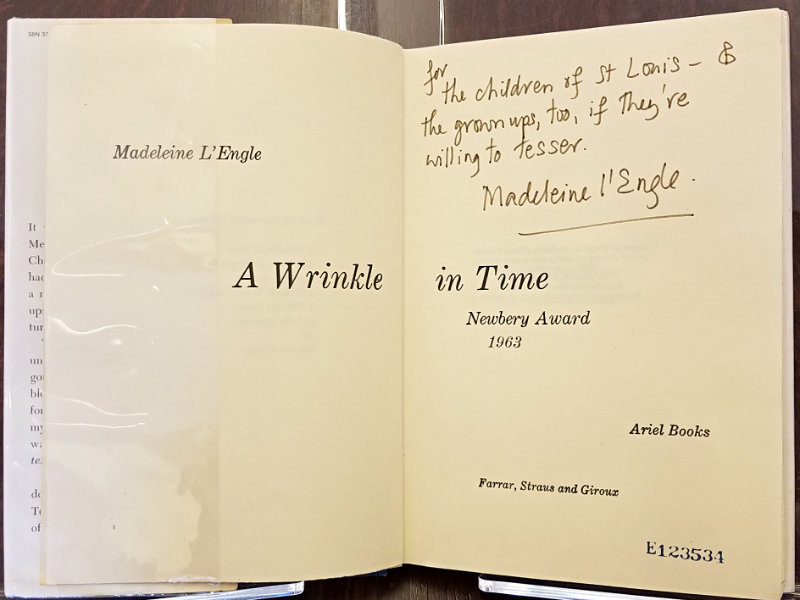 Inscribed by the author "for the children of St. Louis - & the grown ups, too, if they're willing to tesser," our copy was given to the Library by the late Irene Eveland. An iconic figure in local children's librarianship and storytelling, Miss Eveland was employed by St. Louis Public Library for more than 45 years until her retirement in 1992. From her early assignment in the 1940s as a part-time shelver to eventually heading the Community Services Department and Bookmobiles in the 1980s, Eveland was dedicated to sharing the joys of reading. She passed away in 2006 - one year before L'Engle.
Whether you are a fan of the film's star-studded cast (Oprah! Reese! Mindy!) or an admirer of the adventures of Meg, Charles Wallace and Calvin, let us celebrate the gift of great stories that transcend space and time - and those who pass them along to us.
As always, if you would like to visit Rare Books & Manuscripts please give us a call at 314-539-0370. We look forward to hearing from you!