This record collection in Ancestry.com lists individuals enumerated in the 1890 special census of Civil War Union veterans and widows of veterans available on microfilm M123 (118 rolls) from the National Archives and Records Administration (NARA). Although this schedule was intended to be used to enumerate only Union Army and Navy veterans, in some areas Confederate veterans were also enumerated.
 
The 1890 Veterans Schedules asked for the following information:
 
names of surviving soldiers, sailors, and marines, and widows;
rank;
name of regiment or vessel;
date of enlistment;
date of discharge,
length of service;
post office address;
disability incurred;
and remarks.
Most people use this record collection to search for individual veterans, but it can be used in a number of other ways. For example, Keyword search can be used to locate veterans who were institutionalized in 1890, and Rank can be used to discover veterans who did specialized jobs during the war.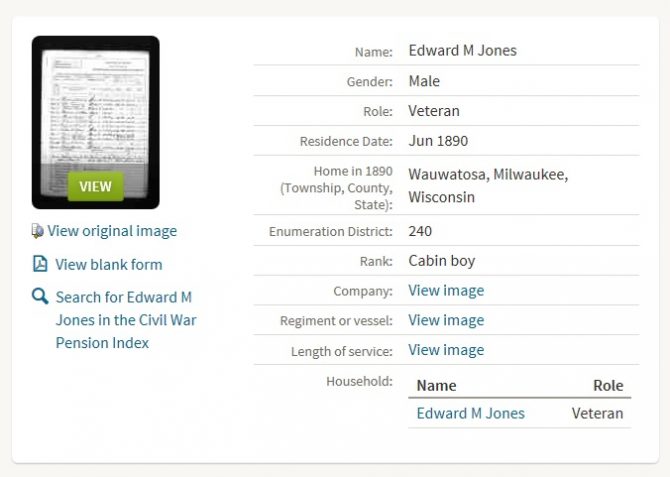 These Keyword searches returned the indicated hits (case does not matter):
 
Asylum 893
Home 13,941 (note: as in Soldiers Home or Home for Disabled Soldiers)
Hospital 1,118
Insane 821
Jail 133
Prison 462
These Rank searches returned the indicated hits (case does not matter):
 
Armorer 25
Artificer 689
Assistant Surgeon 2,385
Blacksmith 260
Boy 325 (note: as in Cabin boy or Drummer boy)
Bugler 1,515
Carpenter 212
Chaplain 680
Clerk 201
Cook 385
Cooper 27
Drummer 1,679
Engineer 896
Farrier 146
Fifer 179
Fireman 1,201
Flag 11 (note: as in Flag bearer)
Hostler 4
Mariner 24
Musician 6,215
Nurse 60
Paymaster 136
Pilot 75 (note: as in Steamboat pilot)
Quartermaster 195
Scout 55
Spy 6
Steward 794 (note: as in Hospital steward)
Surgeon 2,352
Sutler 11
Teamster 396
Ancestry.com can be used at Central Library or any of our branch libraries.