If you look up the word "theater," you will find a number of varied meanings, but what is perhaps my favorite definition is "the area in which something happens."
Something wonderful happened this week at our Barr Library. Five actors walked across the street to a local preschool, helped around 20 little people cross a busy intersection to see the very first performance of "MacTragedy!," a silly, slapstick version of Shakespeare's Macbeth. 
The audience comprised mostly 3-5 year-olds, revealed, via a show of hands, that this was the first live theater performance that most had ever attended. They were invited to participate in the play as the groundlings, the rowdy bunch of Elizabethan theatergoers who paid a penny to see the show.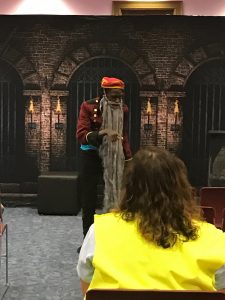 The kids took on their role with gusto and the laughter and giggles flowed freely. Classmates cheered as 4-year-old Lillian vanquished Macbeth and was crowned the new King of Scotland.
Rose-Marie, age 3, held my hand as we left the Library and passionately proclaimed, "I love the theater!"  I thought to myself, "so do I Rose-Marie, and you are the reason why."
I love making people large and small laugh and squeal with delight and getting to do that with a literary classic that will be future required reading for many is a giant bonus. We gave a bunch of little people their very first live theater today, AND it was Shakespeare, AND they understood AND they loved it!  Most of the kids agreed that the witches were their favorite part…AND the Porter… AND the dagger scene. My favorite part was the sharing.
And this is just the beginning…there are many, many more shows to come.
~Aarya Sara Locker, writer/director/actor "MacTragedy!" and manager of community engagement at SLPL