Valentine's Day is just around the corner and in Center for the Reader, we aren't celebrating with flowers or chocolate this year. Instead, this February, we are taking a moment to proclaim our devotion to our true loves...our books! We've asked our similarly infatuated customers to ponder briefly and write a letter to the book, author, character, or series that has stolen their hearts! Read through these declarations of devotion and perhaps find a new literary love affair of your own, or stop in Central library and write one to your book-mate!
---
The Earthsea Trilogy
by Ursula K. Le Guin
"Dear Books of Earthsea, I'm utterly mesmerized by your version of wizards, dragons, and magic in the world. I will undoubtedly re-read you many times just for the pure joy of it!"
Three Pines (Chief Inspector Armand Gamache Series by Louise Penny)
"Dear Three Pines, Thank you for allowing me to spend time in your lovely town. It may have an unusually high homicide rate for such a quaint Quebecois village, but the wonderful and quirky townspeople make up for it."
A Wrinkle in Time by Madeleine L'Engle
"Dear A Wrinkle in Time, There truly is no limit to your imagination when your destination is beyond the stars we can see."
Stephenie Meyer
"Stephenie Meyer, Your brick-sized books were the first step to opening a new world & a lifetime love of reading for this ex-reluctant reader!"
The Last Unicorn by Peter S. Beagle
"Thank you for teaching me that love is a true hero's greatest virtue. From: your lost Prince."
The Martian Chronicles by Ray Bradbury
"I can trace my love affair with science fiction precisely to the day in 1963 when my mom bought me a copy of The Martian Chronicles in a discount store bargain bin for 9 cents. Thank you, Ray Bradbury!"
"Dearest Edmond, You are the epitome of young love, unbounded faith, heartache, & intrigue."
A Bride's Story by Kaoru Mori
"Dear A Bride's Story, If it hadn't been for my curiosity, I'd never have known how gorgeous and interesting you are!"
Pride and Prejudice by Jane Austen
"Dear Pride and Prejudice, I am so sorry to send you such a missive, such a dire one, but I can't go on... You see, I thought it you - I did think so; but it was Jane herself- Love and regrets, B"
The Hound of Baskervilles by Sir Arthur Conan Doyle
"Dear Hound of Baskervilles, While I haven't visited you in a few years, I will never forget how you were my October date for many years, keeping me warm & spooked during those eerie nights."
"T. Corgahessan Boyle, You have never let me down."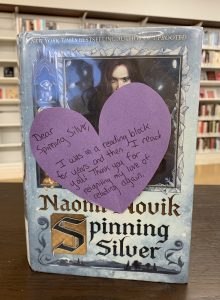 Spinning Silver by Naomi Novik
"Dear Spinning Silver, I was in a reading block for years and then I read you! Thank you for reigniting my love of reading again."
Prince of Thorns by Mark Lawrence
"Dear Prince of Thorns, Your pages make my heart skip beats every time I glance at them!"
Catalyst by James Luceno
"Thank you, Catalyst by James Luceno: For always reminding me that the end is only another place to start."
Love and Other Words by Christina Lauren
"Dear Love and Other Words, Thank you for being the perfect "second-chance," "slow-burn" romance book. You took my breath away."
Harry Potter 
"Dear Harry Potter: Thank you for the opportunity to snuggle and read with my 3 children, for making them lifelong readers, and for the awesome sleepover at Central Library when book 7 came out! XOXO"