Are you still riding high on the exhilarating World Cup win by the U.S. Women's soccer team this month?  Ever so slowly, the world's appreciation of women's professional sports has increased, and viewership of women's games now rivals men's. Debates around this subject rage and twitter feeds overflow with commentary…but you might just wish you could keep that breathless mid-game feeling going a little longer. A riveting women's sports novel could do the trick! All the trappings of sports--team dynamics, crucial games, rabid fans, and fierce competition, to name a few-seem like they would make great material for novels, and they do. Although sports fiction still favors male athletes, there is a small--and hopefully growing--group of novels featuring women athletes, and we have compiled a few that are available here. We'd like to place a bet that this list won't remain short for long! 
The Necessary Hunger by Nina Revoyr
As a sta
r basketball player in her last year of high school, Nancy Takahiro's life is about to change forever. Faced with the college recruitment process and unsure of where her skill will take her, Nancy is not prepared for meeting Raina Webber, an All-State shooting guard whose passion for basketball is matched only by her talent. When Nancy's father and Raina's mother move in together, the girls are faced with the challenge of negotiating their already intense friendship and rivalry. As Nancy's love for Raina grows and both prepare to leave the inner city neighborhood that has nurtured them, they find themselves looking toward a future that is no longer easily defined. Set against a backdrop of racial tension between the Asian American and African American communities of Los Angeles, this story is infused with tenderness and passion. The Necessary Hunger explores not only the intricacies of the game of basketball, but also the very nature of the relationships young women create in the face of the odds that are stacked against them.
Double Fault by Lionel Shriver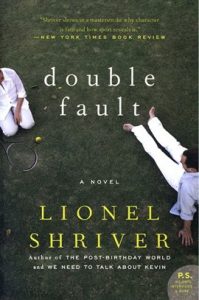 An ardent middle-ranked professional tennis player, Willy Novinsky meets her match in Eric Oberdorf, the handsome rogue she drubs in a pick-up game in Manhattan's Riverside Park. Eric is charmingly gracious in defeat, and his casual confidence takes her in. Low-ranked but untested, Eric, too, aims to make his mark on the international tennis circuit. Willy beholds compatibility spiced with friendly rivalry, and discovers her first passion outside a tennis court. They marry. Conjugal life starts well on the Upper West Side of New York. But animated shop talk and blissful love-making soon give way to full-tilt competition over who can rise to the top first. Driven and gifted, Willy maintains the lead until she severs her knee ligaments in a devastating spill. As Willy recuperates, her ranking plummets just as her husband becomes the upstart darling of the tennis circuit. Ultimately Eric plays in the U.S. Open. Anguished at falling short of her lifelong dream and resentful of her husband's success, Willy slides irresistibly toward the first quiet tragedy of her young life.
When the Men Were Gone by Marjorie Herrera Lewis    
In this inspiring true story of high school teacher Tylene Wilson—a woman who surprises everyone as she breaks with tradition to become the first high school football coach in Texas—comes to life. Football is the heartbeat of Brownwood, Texas. Every Friday night for as long as assistant principal Tylene Wilson can remember, the entire town has gathered in the stands, cheering their boys on. Each September brings with it the hope of a good season and a sense of unity and optimism. Now the war has changed everything. Most of the Brownwood men over 18 and under 45 are off fighting, and in a small town, the possibilities are limited. Could this mean a season without football? But no one counted on Tylene, who learned the game at her daddy's knee. She knows more about it than most men, so she does the unthinkable, convincing the school to let her take on the job of coach. Faced with extreme opposition—by the press, the community, rival coaches, and referees and even the players themselves—Tylene remains resolute. And when her boys rally around her, she leads the team—and the town—to a Friday night and a subsequent season they will never forget.
The Sweetheart by Angelina Mirabella
A debut, coming-of-age novel in which a teenage girl from Philadelphia leaves her old life behind to become one of America's most infamous female wrestlers. Leonie sets off for Florida to train at Joe Pospisil's School for Lady Grappling. There, she transforms into Gorgeous Gwen Davies, tag-team partner of legendary Screaming Mimi Hollander, and begins a romance with the soon-to-be Junior Heavyweight Champion, Spider McGee. But when life as Gorgeous Gwen leaves her wanting, she orchestrates a move that will catapult her from heel to hero: she becomes "The Sweetheart," a choice that attracts the fans she desires but complicates all of her relationships with Franz, Joe, Spider, Mimi (who becomes her fiercest competitor), and even with herself. Angelina Mirabella's surprising, affecting, and morally complex novel describes how a single decision can ripple through the lives of everyone around us. How Leonie sizes up the competition, how she triumphs, how she fails, and how she manages, somehow, to endure, holds promise: if she can, maybe we can, too. The Sweetheart showcases Mirabella's breathtaking talent; it is a daring, innovative, and powerful story.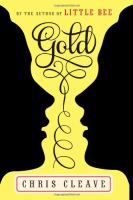 Gold by Chris Cleave 
Gold is the story of Zoe and Kate, world-class athletes who have been friends and rivals since their first day of Elite training. They've loved, fought, betrayed, forgiven, consoled, gloried, and grown up together. Now on the eve of London 2012, their last Olympics, both women will be tested to their physical and emotional limits. They must confront each other and their own mortality to decide, when lives are at stake: What would you sacrifice for the people you love, if it meant giving up the thing that was most important to you in the world?                                                                                                                                                                                                                                                                          
All annotations courtesy of goodreads.com.