Easy crops like peas, beans, lettuce, and tomatoes are great for saving seeds. They are self-pollinating. Each flower is self-fertilizing and usually produces an identical plant.
When planning to grow seeds for saving, make sure you grow enough to eat, too! With some plants, you will need to wait for the plant to bloom. Once it blooms, the plant may not be edible, but it is excellent for saving seeds. You will only need to grow a couple of extra plants as a single plant can produce many seeds.
The plants will give you clues as to when they are ready to be collected. In some plants, look for faded, dry flowers. You will notice the pods are brown, dried and beginning to split open. Other seeds will dry out in the fields. Some vegetables should not be picked until they are overripe, shriveled, and rotting.
Regardless of how you collect your seeds, they must be dried properly in order to store them. Seeds should be stored in a cool, dark, and dry place. Otherwise, they may become moldy. Keep them in paper envelopes, and place the envelope in a glass or plastic container. Seeds stored this way may last a few years. Don't forget to label your seeds!
Saving seeds is a time-honored tradition. It not only helps a gardener save family favorites, but it is also done to save heirloom plants from becoming extinct. Check out these titles from our digital collections, and begin saving your seeds!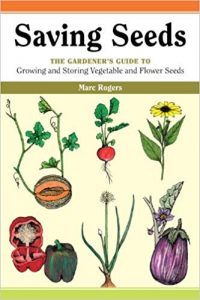 Review provided by OverDrive
Enjoy a delicious bounty of heirloom vegetables every year. Marc Rogers guides you through the time-honored and cost-effective tradition of collecting seeds from this year's harvest to grow next year's crop. Learn how to select and store seeds from proven varieties of more than 100 common vegetables and flowers. Through saving seeds and growing heirloom plants you'll not only have a thriving garden every summer, you'll be saving money and preserving local flavors at the same time.
Review provided by Hoopla
Historically, seed companies were generally small, often family-run businesses. Because they were regionally based, they could focus on varieties well-suited to the local environment. A Pacific Northwest company, for example, would specialize in different cultivars than a company based in the Southeast. However the absorption of these small, independent seed businesses into large multinationals, combined with the advancement of biotechnology resulting in hybrids and GMO seeds, has led to a serious loss of genetic diversity.
Review provided by OverDrive
Plant Parenting is a beginner-friendly introduction to plant propagation. Leslie F. Halleck details the basic tools necessary, demystifies seed starting and saving, and shares easy-to-follow instructions for the most practical techniques for cutting, layering, dividing, and more.
Review provided by Hoopla
This illustrated, step-by-step guide shows you how to save seeds from 20 of the most popular vegetable garden plants, including beans, carrots, peas, peppers, and tomatoes. You'll learn how each plant is pollinated (key to determining how the seed should be saved), how to select the seeds to collect, and how to process and store collected seeds. Grow the varieties you love, year after year!