Would you like to create a calm, peaceful relaxing atmosphere to escape the stress of everyday life? Explore the sounds of nature for the ultimate stress relief. Nature sounds can help you sleep better, longer, and more peacefully. 
After a hard day of work, revitalize your body and mind by lighting candles, burning incense, meditating, and relaxing while listening to nature's sounds. With these items from our digital collections, you can improve your concentration while listening to nature sounds to drown out noises that are disruptive. and more.
Discover an increased feeling of positivity when listening to these nature sounds from our digital collections.
Review provided by Hoopla
Cure your insomnia with the best natural sleep therapy that exists; nature. Turn on the audio and relax as the soothing and gentle sounds of rain and thunder during a tropical storm in the South Pacific effortlessly lull you to sleep. Each audio is the perfect 8 hours in length for the optimal night's sleep. Simply start the audio when going to bed and when the soothing sounds end its time to get up, it's that simple! At the end of eight hours, you've achieved the perfect night's sleep and you will feel fully rested, rejuvenated, and ready to attack the day!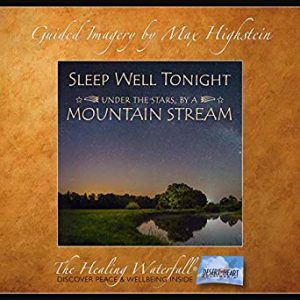 Review provided by Hoopla
Peaceful guided imagery and nature sounds lull you to sleep. In this relaxing program, with gentle narration, soft music, and the soothing nature sounds, you'll find yourself walking along a mountain stream on a crisp fall afternoon. You'll enjoy the sights and sounds of this enchanting setting, and soon find your campsite waiting. As the evening stars come out, you'll settle safe and sound into your comfy sleeping bag. With the stars above, and the stream bubbling in the background, you'll enjoy a full body relaxation, as you drift off into a deep and gentle sleep. The music and stream sounds continue for 15 minutes after the narration ends, giving you plenty of time to make your transition into sleep.
Review provided by Hoopla
Rain creates natural white noise useful in relaxation or restoration of inner peace of mind. Multiple rain drops small and large produce multitudes of audio frequencies merging together and providing both energy and protection for the listener. This recording offers continues sound of rain to aid in holistic, mindful living.
Review provided by Hoopla
Forests of Yosemite is home for many melodious birds and forest creatures. This recording features a tranquil continuous recording of afternoon birdsong including comforting mellow Owl calls and forest crickets. These birds in their natural forest setting are a perfect background for relaxation of immediate boost of focus. Whether you need to block some external noise or need a healthy ambiance for productivity these beautiful birds will take you to that safe space and help you with your daily tasks. Birdsong relaxes physically and stimulates cognitively at the same time. People find birdsong relaxing and reassuring because over thousands of years they have learnt when the birds sing they are safe. This natural soundscape is productivity boosting and can be used at work to help focus, improve cognition and reduce tiredness. Gentle birdsong also masks unwanted background noise, hum, and conversation which will help with reduction of tension and stress.