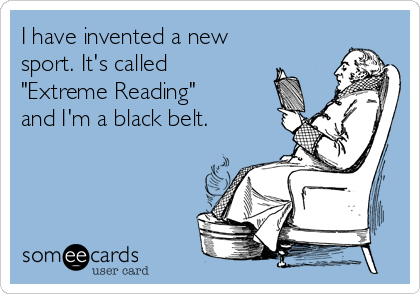 I'm sure you've noticed the trend: Right after Christmas, you start seeing television commercials for Weight Watchers, diet and fitness plans, exercise equipment, gym memberships, etc., and all in the name of "start your new year off right!" Of course the "a new year, a new you" idea isn't limited to physical appearance, however -- many resolutioners take on a brand-new reading challenge in January, as well!
But I have something to add for those of you who find all of this "new year, new you" stuff to be annoying, and a lot of pressure. This is especially true for those of us (including myself) who take on one of these reading challenges, determined to (finally, this year, yes, this year!) read all of those books. Here's my advice: Stop worrying about your numbers. Embrace your reading, and heck, go for a reading challenge if you're so inclined. But if you find yourself, in August, panicking because you're nowhere near where you "should" be, relax. Think about all of the great stories you've read and don't berate yourself for the ones you haven't. How you feel is way more important than a number. And see how this can apply to things like weight-watching, as well? This also applies to getting all competitive with your friends about their reading challenges, who has read the most books so far, etc. etc.
No matter what your reading resolutions are, we're here to support (and possible enable) you. Stop by and see us for suggestions on books and audiobooks and we'll be happy to hook you up!