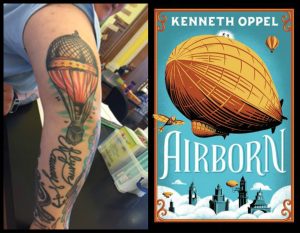 Tattoos have unique meaning to each individual. A person chooses their ink based on a personal connection. Throughout the month of September, SLPL would like to provide patrons with inspiring readings related to their art. Send a photo of your tattoo to editor@slpl.org and a Librarian will match your ink with a read. Or Tweet us a photo and use the hashtag #Q&Ink
We have a great program coming up on September 29th called "Q and Ink."
Our panel of five local tattoo artists will talk about the artistic process behind stunning designs. You'll learn about how the medium of tattoo ink affects design, how artists work with clients to create or enhance a design, current trends in tattooing, and more. Whether you have ink of your own, or are just interested in the evolution of a tattoo from concept to completion, our experienced panelists are sure to enhance your knowledge of this significant form of art and expression.