Thirty-six years ago to
day, on May 18, 1980, a devastating eruption occurred at Mount St. Helens, blowing off more than 1,000 feet from the mountain's peak. With numerous small earthquakes rumbling beneath its surface over the last several weeks (they call it a swarm!) what better time to feature Primeval, hand-crafted by Washington state book artist Jill Timm. Constructed in the shape of a tetrahedron, or a triangular pyramid, Primeval ingeniously unfolds into panels which tell the story of the massive blast and its aftermath through photographs and text. Boosting the cool factor even further, a capsule of volcanic ash from Mount St. Helens is included. The book measures 5.5″ x 6″ x 6″ and the Library's copy is number 7 in the limited edition printing of 20. It was published by Mystical Places Press in 2015.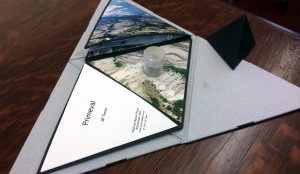 Timm, whose works "celebrate the spirit and aesthetics of the natural environment," is also featured in 1000 Artists' Books: Exploring the Book as Art by Sandra Salamony, with Peter & Donna Thomas. This terrific resource, published by Quarry Books in 2012, is located in the Fine Arts Room at Central Library. The call number is 709.04082 and it can be checked out.
Primeval, on the other hand, lives in Special Collections and does not circulate. However, we are more than happy to let visitors spent some time with our volcano-shaped book. Give us a call at 314-539-0370.