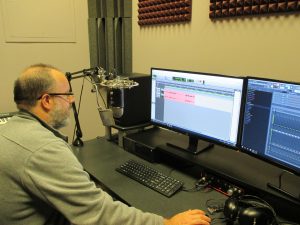 Creative Experience, opens a new window has everything you need to podcast including a Recording Room and four "Pods" with  hardware and software for recording and editing, including the recent addition of Callnote Pro for capturing Skype interviews. Creative Experience  periodically offers free workshops, as well as free online classes and tutorials to get you started with these facilities. Last month, Creative Experience hosted a packed Intro to Podcasting workshop. If you missed it, here's some resources to get you going.
Podcasting Resources
St. Louis Public Library:
Books:
Podcasting for Dummies, by Tee Morris and Chuck Tomasi, 2017
Profitable Podcasting by Stephen Woessner, 2017
Out on a Wire by Jessica Abel, 2015
(Other older titles are also available.)
Free Online Learning:
Gale 6-week podcasting and blogging course, opens a new window
St. Louis Public Library portal for free access to Lynda.com tutorials, opens a new window
(Search by topics including Podcasting and specific software applications)
Online How-to Guides about Podcasting and Recording:
Excellent resource for articles on podcasting as well as all aspects of recording and producing radio and audio.
The Audacity Podcast, opens a new window
Includes some good advice about starting and distributing a podcast
How to Start Your Own Podcast, opens a new window 
Includes step-by-step guidelines and advice
Advice on all aspects of podcast production and advice from a seasoned producer
Podcasting for Dummies Podcast
Podcast by the author of the popular book
Podcast Hosting Sites:
Internet Archive, opens a new window
Helpful article about the pros and cons of using this free hosting site
Soundcloud, opens a new window
Free accounts limited to 3 hours of content; unlimited accounts $15/mo; includes analytics and directory; connect with other Sound Cloud users
One of the first podcast hosting sites; analytics, RSS fee, and directory; plans start at $5/mo for limited storage
Includes analytics, RSS feed, and directory; plans start at $12/mo for limited storage
8  of the Top Podcast Hosting Companies
Helpful article with details about various podcast-hosting sites
8 Best Sites to Host Your Podcast, opens a new window
And here is another article that includes some different options from the one above
School of Podcasting.com, opens a new window
One more detailed comparison of some of the top podcast hosting sites
Podcast Directories and Apps:
The most popular site for iOS devices; important to use, but it can be hard to get noticed, so it's a good idea to list in other apps too
An increasingly popular podcast directory and radio-streaming site for all device platforms
Google Play, opens a new window
Newer to podcast distribution, but has many listeners; another alternative for Android users
6 Essential Places to Distribute your Podcast, opens a new window
Good listing of six top sites for distribution
http://podcast411.libsyn.com/directories
Extensive and regularly updated listing of podcasting directories
Sources for royalty-free music and audio:
http://freemusicarchive.org/search/?quicksearch=
From here, you can select the bottom box "allows for use in a remix or video" to search songs that have licenses that allow for this kind of use.