There are three kinds of patents granted by the US Patent & Trademark Office: utility, design, and plant.
What is a plant patent?
A plant patent is granted "to anyone who has invented or discovered and asexually reproduced any distinct and new variety of plant, including cultivated sports, mutants, hybrids, and newly found seedlings, other than a tuber-propagated plant or a plant found in an uncultivated state."  The application has the same parts as applications for design and utility patents, but because a plant patent is granted on the whole plant, only one claim is allowed and necessary.  Protection lasts for 20 years, the same as utility patents.
What does a plant patent look like?
Here is an example: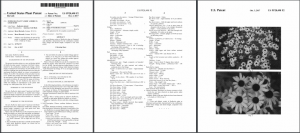 Hard copies of plant patents have color photos on glossy paper, and are quite beautiful!  The USPTO sends the St. Louis Public Library's Patent and Trademark Resource Center hard copies of all plant patents, and they are bound and kept in storage.  With a few days notice, they are available for perusal.