It's that time of the year again! Many of us are planning various holiday celebrations and all of us have a fresh year looming. Oh yes, it's already mid-December and we're short on time, so why not revisit a classic, timely novella?
Charles Dickens' A Christmas Carol, a story that has been entertaining and provoking us for almost two centuries, actually has less to do with the holidays, and more to do with personal transformation via the supernatural.  Would old miser Scrooge have changed without his encounters with time-traveling ghosts? It's unlikely, but the ghosts of Jacob Marley and Christmas Past, Present, and Future did a fantastic job of jarring him out of his spitefulness into a truly benevolent character.
If you find this Dickens story a bit too cliché, but are intrigued by the idea of personal transformation instigated by paranormal encounters, we've found plenty of other books to entertain and enlighten. The end of another year is a perfect time to explore this theme, and let's be honest…a hair-raising spectral guide just might be a more potent path to self-actualization than a New Year's Resolutions list. Here are a few novels you can find in the Center for the Reader to illuminate this theory:
Lolly Willowes
, written in 1926 by Sylvia Townsend Warner, is the story of a woman whose fierce independence is disagreeable to everyone around her, especially her family. Unhappy with society's oppressive standards for women, Laura moves to a secluded home to be alone. Here she encounters Satan, who helps her realize she's a witch – a happy discovery for a woman who never felt like she fit in. Published even earlier than Virginia Woolf's A Room of One's Own, this is an extraordinary feminist story of personal discovery.
In Jeff Vandermeer's Area X, groups of researchers are irrevocably altered after expeditions to Area X, seemingly by the land itself. Those who don't die become something else entirely: air, plants, cells, biological anomalies, or simply presences. These researchers are not victims of the supernatural - they choose to go on these expeditions, knowing they will become something inexplicable to science - extreme self-transformation, indeed. 
Leah, the protagonist of The Red Car, is immersed in grief after her best friend and mentor dies in a car accident. She is already unhappy and feeling stuck in life, and when she finds out her deceased friend left to her the very car that caused her death, she sets out across the country to claim it. Her friend's ghost-like voice is with her for the journey to claim the "haunted" car, providing commentary on every life-changing experience. This book by Marcy Dermansky is a funny, moving, and surreal story of transformation and self-discovery.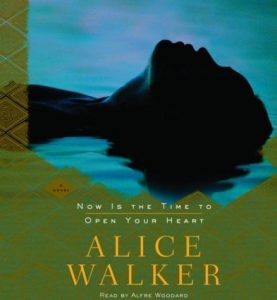 Alice Walker's 2004 novel, Now Is the Time to Open Your Heart, tells the story of a 57-year old woman who leaves her lover to go on a spiritual quest. She explores her past, present and future through dreams and shamanic visions, and her journey is eerily coincidental with her lover's far-away experiences. Her conclusion? Love is real and the only thing that matters.