Note to self, things to never bring up at a dinner party: religion, politics and parenting. A few weeks ago I witnessed a friendship between mothers end because of a difference in co-sleeping beliefs. For those who aren't familiar, co-sleeping is when a child sleeps close or with one or more parents, as opposed to in different rooms.
I was surprised by how quickly the friendly dinner turned heated. Although, it was far from the first time I had witnessed a disagreement over parenting styles. Here was my take away from that dinner and my life as a mother: parenting is hard. In my experience, most of these disagreements happen when a parent feels like they are being judged. We live in an age where parenting styles are controversial. Parents feel insecure when their actions are questioned or another style is presented, which causes them to lash out. Less judgment and more understanding between parents can go a long way.
Science & Technology has a wealth of information on pregnancy, birthing and parenting. Below are a few parenting topics that spark controversy and book recommendations.
How to Give Birth:
Better Birth by Dr. Sarah Buckley
"Every mother to be has the chance to give birth where she remains in control and is at the center of the experience. Better Birth is written from both the personal and professional viewpoint about choosing the birthplace, the caregiver, and how an understanding of the process can result in a truly positive and satisfying birth. Many women think that birth is something that has to 'endured' and are often uncertain about what their real options are. This book clarifies the confusing issues and helps you to make vital decisions about your experience."
Breastfeeding or Formula Feeding:
The Big Let Down by Kimberly Seals Allers
"Breastfeeding. The mere mention of it has many mothers wracked with anxiety (how will I manage with work, other kids, what if I don't make enough milk?) or guilt about not doing it (will I be hurting my child if I choose not to breastfeed? what will people think of me if I choose not to?)."
Push Back by Amy Tuteur
"A Harvard-trained obstetrician-gynecologist, prominent blogger, and author of the classic How Your Baby Is Born delivers a timely, important, and sure to be headline-making expose that shines a light on the natural parenting movement and the multimillion-dollar industry behind it."
Vaccinations:
Deadly Choices by Paul A. Offit
"In 2014, California suffered the largest and deadliest outbreak of pertussis, also known as "whooping cough," in more than fifty years. This tragedy was avoidable. An effective vaccine has been available since the 1940s. In recent years other diseases, like measles and mumps, have also made a comeback. The reason for these epidemics can be traced to a group whose vocal proponents insist, despite evidence to the contrary, that vaccines are poison. As a consequence, parents and caretakers are rejecting vaccines for themselves and their families."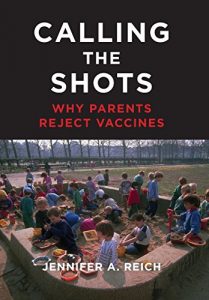 Calling the Shots by Jennifer Reich
"A rich, multi-faceted examination into the attitudes and beliefs of parents who choose not to immunize their children The measles outbreak at Disneyland in December 2014 spread to a half-dozen U.S. states and sickened 147 people. It is just one recent incident that the medical community blames on the nation's falling vaccination rates. Still, many parents continue to claim that the risks that vaccines pose to their children are far greater than their benefits. Given the research and the unanimity of opinion within the medical community, many ask how such parents--who are most likely to be white, college educated, and with a family income over $75,000--could hold such beliefs."
ADHD:
ADHD Medications by Victor B. Stolberg
"The treatment of attention-deficit/hyperactivity disorder (ADHD) is a complex challenge. This book provides comprehensive, scientific coverage of the numerous different types of drugs that are used to treat ADHD, and it examines the historical, sociological, and policy-related factors involved in the use of ADHD medications."
All About ADHD by Thomas W. Phelan
"For the estimated 20 million Americans with Attention Deficit Hyperactivity Disorder comes the third edition of All About ADHD by Dr. Thomas W. Phelan, an internationally renowned expert and lecturer on child discipline and ADHD."
ADHD Does Not Exist by Richard Saul
"In this groundbreaking and controversial book, behavioral neurologist Dr. Richard Saul draws on five decades of experience treating thousands of patients labeled with Attention Deficit and Hyperactivity Disorder--one of the fastest growing and widely diagnosed conditions today--to argue that ADHD is actually a cluster of symptoms stemming from over 20 other conditions and disorders."
Discipline:
Ignore it! By Catherine Pearlman
"This book teaches frustrated, stressed-out parents that selectively ignoring certain behaviors can actually inspire positive changes in their kids. With all the whining, complaining, begging, and negotiating, parenting can seem more like a chore than a pleasure. Dr. Catherine Pearlman, syndicated columnist and one of America's leading parenting experts, has a simple yet revolutionary solution: Ignore It!"
Gentle Discipline by Sarah Ockwell-Smith
"Discipline is an essential part of raising happy and successful kids, but as more and more parents are discovering, conventional approaches often don't work, and can even lead to more frustration, resentment, power struggles, and shame."
Permission to Parent by Robin E. Berman
"After being bombarded by parenting fad after parenting fad, moms and dads finally have a friendly, commonsense guide to raising thriving children. Today, many parents have rejected the dictatorships they resented from their own childhoods. But they overcorrected by turning into child-pleasers. Showering praise and letting kids rule the roost has actually eroded the very self-esteem parents are trying to create."
My Personal Recommendation to You:
Parenting is Easy by Sara Given
"Based on the popular Tumblr, 'It's Like They Know Us: Perfect Parenting on White Upholstery' Parenting is Easy pairs snarky, irreverent captions with squeaky-clean photos of parents in action for a delightfully "yeah, right!" reading experience."
My Thoughts for You:
The list continues into breastfeeding in public, gender neutrality, working parents, screen time, eating habits, and on, and on. Make choices that are best for your child and your family while consulting medical professionals. For more books on parenting, visit Science & Technology at the Central Library.
Book descriptions are from the St. Louis Public Library website.