Self-centered, inept moron ... Ruthless, manipulative Machiavellian ... Murderous imperialist, deadbeat dad 
On the third Sunday of every June, we honor the men present in our lives, those who love, appreciate, and mentor; we reflect on the affectionate, supportive fathers who actively contribute to the strong sense of wellbeing and positive self-esteem of …yadda-yadda-yadda. But what about those men who are despicable human beings to start with, and even worse in a parental capacity? For every Superdad in fiction (think Atticus Finch or Bob Cratchit or Arthur Weasley), there are fathers on the opposite spectrum who hardly deserve the title. If you can't summon sufficient gratitude for the father figure in your life, maybe you can at least be thankful that yours hasn't reached the depths of depravity of these infamously contemptible fictional fathers:
Lolita: Humbert Humbert, a European professor, becomes infatuated with 12-year-old Delores "Lolita" Haze, the daughter of his landlady, Charlotte. He marries Charlotte to be near his beloved "nymphette." After Lolita's mother dies, H.H. packs up his pubescent paramour for a yearlong road trip. During this time, the pair consummate their obsessive, abusive relationship, and he threatens his daughter with the orphanage whenever she refuses his advances.
Bastard Out of Carolina: Glen Waddell is a man so desperately insecure about his masculinity and human worth that he requires a scapegoat on whom to enact senseless cruelty. When he marries Anney Boatwright, becoming the stepfather of her daughter Bone, he almost immediately begins his reign of abuse and torture against the child - both physical and psychological. Waddell's unpredictable temper and increasing level of malevolence toward Bone manifests itself in years of brutality and culminates in a graphic sexual assault, each act justified by Waddell as lack of love from his own father.
The Shining: All work and no play definitely warped Jack Torrance's parenting skills. A recovering alcoholic, Jack ships his family off to a remote, deserted hotel, where he takes a job maintaining the facility during the closed winter months. Not the greatest environment for someone recovering from substance abuse, it turns out, and as Jack's inner turmoil begins to manifest itself in haunted happenings around the hotel, he ultimately chases his son through a frozen hedge maze in an attempt to kill him with a croquet mallet.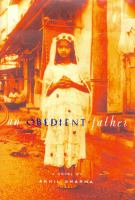 An Obedient Father: Ram Karan takes his twelve-year-old daughter's virginity and repeatedly inflicts himself upon her, never quite grasping the magnitude of his cruelty, even after his actions are discovered. Years later, out of sheer desperation, now-widowed Anita and her young daughter move in with him. Inevitably, reveling in any opportunity for self-indulgence and denying any self-control, he is found holding his granddaughter in an incipiently sexual embrace. One can only imagine the depths of Anita's hatred and the extent of revenge.
Annotations courtesy of goodreads.com