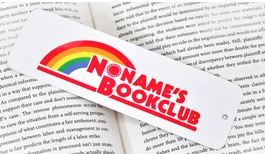 Last summer the rapper Noname created a book club with the tagline "reading material for the homies." The book club was formed as "an online/irl community dedicated to uplifting POC voices" by monthly choosing two books by authors of color. Noname is a big fan of public libraries and local bookstores, and recently declared January 11 to be "Library Card Registration Day," as reported on NPR:
When she's not recording in the studio, she's often at the library.

"Just going to the library and talking to a librarian and their wealth of knowledge on books and material is so amazing to me," she says.

Noname wants to encourage people to get their own library cards, not just for the free books, but also for the people who can guide you to them.

"I've been put onto some crazy books I'd never would have ordered online just because I was in person talking to another human being," she says.
(For a bonus musical interlude, here is a link to Noname's 2017 "tiny desk concert" from NPR.)
While St. Louis does not currently, according to the book club's website, have a Noname's Book Club chapter, a search of the St. Louis Public Library catalog suggests we do have some followers and/or readers with similar tastes - an attempt to pull together a display of the club's book selections was only somewhat successful as many of the titles had been checked out by our customers. We supplemented the display with books about public libraries, book clubs, shopping local, and strong neighborhoods - themes that seem aligned with the book club's vibe. We have also created a list - essentially a virtual book display - so that you can place a hold on a book not currently available and get your hands on it at a later date (we've also indicated if you can find it in eBook, audio, or other format). The Book Club's February picks (just announced!) are Magical Negro by Morgan Parker (SLPL's copy currently checked out) and Sister Outsider by Audre Lorde (Lorde's book is available in paperback, eBook, and streaming audiobook formats). 


The linked list (unlike the physical display) includes ALL the Book Club's picks, as well as (like the physical display) some additional titles, including a possible reading suggestion for a future Book Club meet-up: No Name in the Street by James Baldwin.

For those who missed getting a library card on January 11, we have good news - at St. Louis Public Library (nearly) every day is "Library Card Registration Day" AND the Library recently debuted five new library cards to choose from: you can show your support for the St. Louis Blues, carry an original piece of art depicting the city skyline designed and executed by Firecracker Press in your wallet, select the hip/edgy graffiti design, proclaim your wisdom and whimsy with the owl design, or go graphically old school with the teal and black St. Louis Public Library card. SLPL's recent announcement that it was going fine-free and forgiving past overdue fees, a decision the Library Board made " as a way of reducing barriers and increasing equity for library users," makes having and using a library card easier and more accessible for a lot of people; we are excited to invite people back to the Library to more fully enjoy all of our resources.
We hope to see you soon at the Library, learn which library card you chose, and maybe guide you to some cool books.