The thriller that unfolds on a train has always been one of my favorite tropes. Whether murder, hijacking or drug run, there is just so much built in tension and suspense: There is a limited and static cast of characters, everyone is a suspect and everyone is a detective, the characters are stuck together as they barrel along down the track, forced to deal with a situation they cannot escape. Alternatively, as the train makes many stops, characters are lost or gained only entangling the suspense. Either way, trains playing a central role in the plot line adds an air of transience and ephemerality that I find irresistible.  There have been many train-based thrillers over the years, here are some classics and some of my favorites.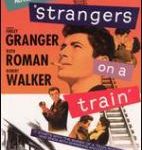 Strangers on a Train, opens a new window (1951), North By Northwest , opens a new window(1959). The original and the classic of this trope are both results of the directorial acumen of the peerless Alfred Hitchcock. Hitchcock knew how to nurture and foster tension, without color or special effects to speak of. Perhaps because of this, the build and tautness of suspense in these films is incredible.
Murder on the Orient Express, opens a new window (1974): This is the film everyone thinks of when you say train+murder-mystery. Adapted from an Agatha Christie novel, and featuring the iconic detective Poirot, this movie has everything you could ask for in a murder mystery: secret identities, bitter grudges and several suspects. Without giving too much away (if by some chance you haven't already seen it) the reveal is a bit anticlimactic in my view, and there are certainly some plot holes, but it's still an exciting and worthwhile adventure.
The Taking of Pelham One Two Three, opens a new window (1974): While the 2009 remake was merely a cut and paste action-adventure adrenaline ride, the original is a bonafide thriller. The tension is palpable as a New York City subway car and all its passengers are taken hostage for ransom. This gem also addresses one of the fundamental issues in any train caper: if everyone is stuck on a train together, including the perps, how do they intend to get away?
Transsiberian, opens a new window (2008): This is easily my favorite train mystery of all time. Two couples meet on a train crossing the great Siberian tundra, and an unsuspecting couple is wrapped up in drug smuggling, the Russian mob, and murder. What makes this film so fantastic is the wasteland quality of all the stops. Yes, you can get off the train, but where do you go from there? The tension in this film is off the charts, and the feeling of being trapped in wide-open spaces adds a sinister ambience to this film.
Snowpiercer, opens a new window (2013): While this film delves into science fiction, all the essential elements of the train thriller are here. In a dystopian future where nuclear winter has set in across the globe, the only remaining human inhabitants live on a bullet train that circumnavigates the globe. Socio-economic stratification has occurred based on which car one lives in, and the plebs have just about had it…While the premise may be a little flimsy, and at times it may be hard to suspend your disbelief, this flick still delivers suspense, that sense of no escape that defines this trope, and lots of violence