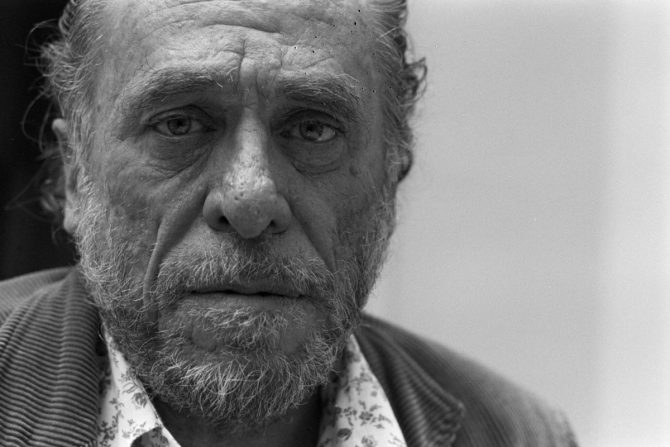 Suggesting a fireside reading of Bukowski in December may seem antithetical to many people's idea of embracing 'The Christmas Spirit,' but I encourage you to temporarily withhold your dismay and indulge your inner Scrooge. 
Bukowski is probably most well known for his musings about the underbelly of America, failed relationships, and his own drug and alcohol abuse. Those who have read his extensive volumes of poetry may have also picked up on his antipathy for holidays. Titles like happy new year, Christ in his manger, and winter seem like innocent enough titles, but it only takes browsing the first few lines before the content derails. Take, for example, the beginning of his poem, merry christmas: 
There I am
hungover, I've just made it in
and sit next to the mother of my child;
she sits there old and grey,
I sit there old and greying... 
And merry, merry: 
now let's see
who's on my Christmas list:
there are three angry ladies
who've told me never
to call them again
and there's the guy down at
Jiffy-Lube who said he didn't have
time to give me an oil change
yesterday
 Or there's winter: 44th year: 
I am sad
like
a
dead angel
One of his more humorous ruminations on the Christmas Season comes from his book Factotum: 
Then came the Christmas party. That was December 24th. There were to be drinks, food, music, dancing. I didn't like parties. I didn't know how to dance and people frightened me, especially people at parties. They attempted to be sexy and gay and witty and although they hoped they were good at it, they weren't. They were bad at it. Their trying so hard only made it worse.
If you'd like to celebrate the holidays Bukowski-style, here is a book list of a few titles that include some of his most-loved (and loathed) holiday prose like Christmas poem to a man in jail, smiling, shining, singing, the snow of Italy, the last winter, the death of the snowman, and many more.