Born, raised, and educated in St. Louis, William Marion Reedy (1862-1920) was writer, editor, and publisher of The Mirror, a local weekly journal at the turn of the last century. Though somewhat overlooked by time, The Mirror and Reedy's colorful opinions, on politics and literature especially, were influential on an international scale. An "intellectual (if slightly seedy) bon vivant with a love for booze, food, and women," Reedy also had a knack for recognizing and fostering young writing talent in the pages of The Mirror.[1] While it was not a "one-man paper" per se, The Mirror did not survive long after Reedy's sudden death in the summer of 1920.
At noon on May 24th, 1924, a bronze medallion of Reedy was presented to the St. Louis Public Library during exercises celebrating the creation of the Reedy Collection. An assortment of 600 volumes from Reedy's personal library donated by his widow, the collection is now held in Special Collections at Central Library. Numerous books in the collection are presentation copies given to Reedy by the authors, publishers or notable friends and admirers.  I have explored a few of these titles with the hope of shedding some light on Reedy's complex relationships with the personalities behind the books and to fashion a wide-ranging portrayal of the man and his role in fin de siècle American publishing. Special Collections also holds a nearly complete run of Reedy's Mirror, which I refer to often for Reedy's thoughts in his own words.
Arguably the most important of all literature first featured in The Mirror was the serialization from May 29, 1914 until January 5, 1915 of the Spoon River Anthology. Attributed initially to the pseudonym Webster Ford, Reedy revealed its true authorship in The Mirror in November 1914, after 21 weekly entries. The continuing opus was the creation of Chicago lawyer, Edgar Lee Masters, partner of Clarence Darrow. Based on Masters' recollections of his provincial American boyhood, the dead of imaginary Spoon River have penned their own epitaphs. Reedy enthused in The Mirror, "In these ashes are fierce unquenchable fires. Life here is more poignant and death is not so dead."[2] Spoon River was the literary sensation of the season, igniting comparisons to Walt Whitman.
"To William Marion Reedy with affectionate esteem, E.L. Masters, Oct. 21- 1917." (in pencil)
Masters, Edgar Lee.
A Book of Verses.
Chicago: Way & Williams, 1898.
5 p. l., 17-207 p.
5 1/8" X 7 1/2" on blue-grey paper boards
1st ed.
RB-R 811
Although Masters had appeared in The Mirror previously, it was Reedy's encouragement that inspired him to "do something more distinctive than what I was doing, somehow, someway, but without telling me how to do it."[3] A champion of classical literature since his Jesuit education days at St. Louis University, Reedy introduced Masters to the Greek Anthology, which is considered a model in format to Spoon River.
For Masters, the two men's lasting bond "was the outstanding friendship of my life."[4] He also believed Reedy was "spiritually starved" in part "because he had thirsts that the earth cannot quench."[5] A Book of Verses, the book given to Reedy by Masters and held in our collection, is a rather unique item. Printed in 1898, it is Masters' first collected volume of poetry, written many years before Spoon River. However, it was never issued due to the monetary woes of its publisher. As Masters remembered in his autobiography, Way & Williams turned it over to Stone & Kimball who refused to publish it. "So I went there at last and got as many copies as I wanted. Some of these I sent to the press, some I gave away. Eventually I got the whole edition and carted it to my basement."[6] Originally it was to be sold for $1.50.[7] It is interesting to note, despite their long friendship, this inscribed copy wasn't given to Reedy until 1917.
Please call Special Collections at 314-539-0370 to plan your upcoming visit.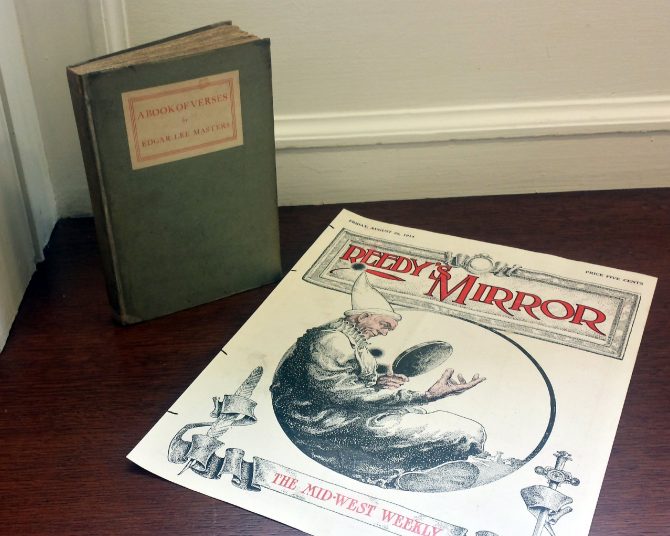 References
[1] Byrne, Richard. "The Mirror Cracks: The Demise of William Marion Reedy's Mirror." Gateway Heritage Fall 2000:46.
[2] Reedy, William Marion. "The Writer of Spoon River." Reedy's Mirror 20 Nov. 1920: 1-2.
[3] Masters, Edgar Lee. "The Genesis of Spoon River." American Mercury Jan. 1933: 38-55.
[4] Masters, Edgar Lee. "William Marion Reedy". American Speech 9.2 (1934): 96–98.
[5] Masters, Edgar Lee. "Literary Boss of the Middle West." American Mercury April 1935: 450-455.
[6] Masters, Edgar Lee. Across Spoon River: An Autobiography. New York, Farrar & Rinehart, 1936.
[7] Kraus, Joe W., A History of Way & Williams. Philadelphia: George S. MacManus Co., 1984.