Lobsters are meant to be eaten for special occasions, such as birthdays, anniversaries, or just because you enjoy lobsters. The best way I enjoy eating lobster is simply dropping them into a boiling pot of water, using chopsticks to hold them beneath the water for a few minutes until they turn red. Let them cook for about twenty minutes. Then remove gently and use crackers to break open the claws and tail. Make sure you hold them over a sink or bowl so that the liquid inside does not pour down your clothes and all over your kitchen counter! This method has been scientifically proven to be a painless what for lobsters to die.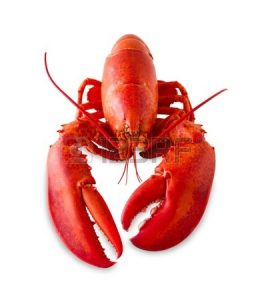 Another method to is to kill a lobster by inserting a sharp knife between the body and tail shells, cutting the spinal chord. You may decide to place a heavy butcher knife along the lobster's stomach, then hit it with a hammer or mallet. If you choose to kill it this way, place on a flat baking tray, brushing melted butter over the meat. Add salt and pepper. Place the lobster shell side down on the baking tray so that the juices of the lobster remain in the lobster. Broil for about 6 minutes, up to 15 minutes, depending upon the size of the lobster. You will have tough and dry lobster meat if you overcook your lobster.
Either way of cooking your lobster, I always find that melted butter with lots of lemon juice, chopped garlic, salt, and pepper are a great addition to enjoying freshly cooked lobster! Just serve small new potatoes boiled, fresh artichokes, that also like to be dipped in the lemon/butter/garlic sauce, make a complete seaside meal.
Lobster Thermidor
(from: Marjorie Mosser"s "Good Maine Food: ancient and modern New England food & drink" cookbook)
Split cold boiled lobster lengthwise. Remove meat and cut in small pieces. Make cream sauce as follows: Melt 1 tablespoon of butter, add 1 tablepsoon flour and 3/4 cup light cream, stirring constantly until sauce reaches boiling point. Boil 2 minutes, then add 1 teaspoon English mustard, 14 teaspoon salt, and dash of cayenne. Add lobster meat and 1/2 cup chopped cooked mushrooms and mix well. Fill empty shells with mixture, building it up above shell level. Sprinkly with grated cheese and place on broiler to brown.
Lobster Croquettes
2 cups boiled lobster meat
1 cup Thick White Sauce
1/4 teaspoon salt
1/4 teaspoon dry mustard
2 eggs
bread crumbs
Chop the lobster meat and add it to the white sauce with salt and mustard. Heat in a double boiler. Chill and shape into croquettes. Dip into beaten eggs and then into bread crumbs. Fry in deep hot fat, 390 degrees, and drain on brown paper. Serve with a mushroom or tomato sauce.
Thin White Sauce
1 tablespoon butter
1 tablespoon flour
1 cup milk
1/2 teaspoon salt
1/8 teaspoon pepper
Melt butter, add flour, and blend. Gradually add milk, stirring constantly until mixture thickens. Add seasonings.
Mushroom Sauce
1/2 pound sliced mushrooms
1/4 cup butter
3 tablespoons flour
1 cup thin cream
Saute mushrooms in butter, add flour slowly. Brown slightly; then add the cream and cook till thick. Serve on lobster.
Tomato Sauce
Bring to a boil in a saucepan 1 cup canned tomatoes, 1 cup water, 2 whole cloves, 2 allspice berries, 2 peppercorns, 1 teaspoon chopped parsley, and 1 teaspoon mixed herbs. Saute 1 tablespoon chopped onion in 1 tablespoon butter, and stir in 1 heaping tablespoon cornstarch; then add to tomato mixture. Simmer 10 minutes. Season with 1/2 teaspoon salt, 1/4 teaspoon pepper, and juice of 1 lemon. Strain and serve.
Note that lobsters, that we call American or Maine lobsters, are Homarus americanus. They have large, powerful claws. These lobsters are what are sold in most fish markets across the United States. You can even have them ordered in the Mid West and shipped fresh from Maine. The smaller European lobsters, known as Homarus vulgaris, or Homaris gamarus, are found off the coast of Europe. They are smaller and not as plentiful as the American lobsters.
Mistakenly called lobsters, are a species of crustaceans that are clawless. They are found in the waters in the Caribbean, Mediterranean, Africa, Australia, and even Scandinavia. However, they belong to another family (Palinurus vulgaris). They are called rock or spiny lobsters. In Europe, these lobsters are called langouste.
Interestingly, the Maine Lobster Promotional Council has trademarked the slogan "Maine lobster, the ultimate white meat".
Now here's an interesting lobster story from Rhode Island. (p. 21 Dojn, Brooke. Lobster! 55 Fresh & Simple Recipes for Everyday Eating.North Adams, MA: Storey Publishing, 2012.)
LARRY, THE RHODE ISLAN' MONSTAH LOBSTAH
"Our family was at dinner at the Wharf Tavern in Warren, Rhode Island, a couple of years ago. The waiter announced that they had a special that night…an eighteen-pound lobster that could fee our entire table for $125. After a great deal of family discussion, my husband, Keith, called the waiter over and told him we'd like to order the lobster… but we wanted it live! We dubbed him (or her?) Larry the Lobster. A couple of people at tables around us heard the conersation and chipped in to help us save Larry. We returned the next day with a cooler, packed Larry up, and drove 50 miles to the Mystic Aquarium, where we'd arranged to donate Larry and where he lives on happily in one of their large tanks. The story about our lobster rescue mission ran in our local newspaper, and months later I met a woman who told me that her young son was so moved by Larry's plight that he insisted on being taken to Mystic to meet Larry in person."