June was first designated as Gun Violence Awareness Month by New York State in 2013 "in an effort to raise awareness surrounding the issue of needless and senseless gun violence in New York's communities. The focus of this effort is to lead a bipartisan charge to concentrate annual heightened attention to gun violence and gun safety each June." While attempts to have the designation recognized nationwide have not made it out of Congress, many states (and perhaps more importantly, social media) have joined the movement to focus during the month of June on the incidents and victims of gun violence, starting with "Wear Orange" day  on June 1. "Why Orange? Because Orange is what hunters wear in the woods to protect themselves from harm. Orange is a bright, bold color that demands to be seen." (Wear Orange toolkit)
At the Library we have books and other resources that explore both sides of the often heated gun debate, and in June we had a book display in the Social Sciences room featuring many of these titles - it will come down in July, but will live on via this list. Along with the books we included several pocket-sized "Active Shooter Event - Quick Reference Guides" from the FBI for patrons to take (& we have more available at our desk - just ask us).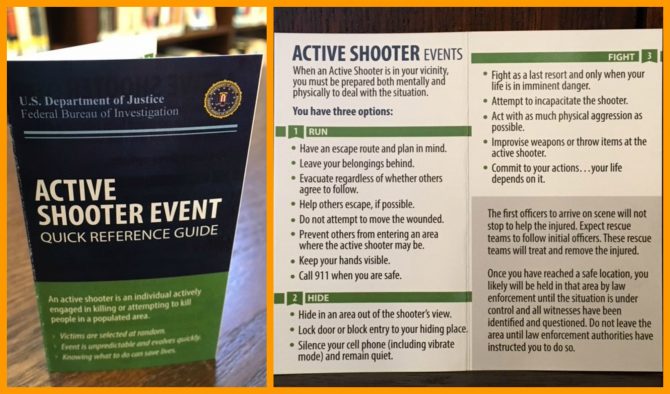 Sadly, we close out the month of June with a workplace shooting at the Annapolis Capital Gazette, a community newspaper in Maryland in which editor and columnist Rob Hiaasen, opens a new window, 59; Wendi Winters, opens a new window, 65, a community correspondent who headed special publications; editorial page editor Gerald Fischman, opens a new window, 61; sports writer John McNamara, opens a new window, 56; and Rebecca Smith, opens a new window, 34, a sales assistant were all killed.