I remember when I was little picking all sorts of wild fruits, such as Saskatoon berries, blue berries, and chokecherries. Then my mother would ask me to clean them to make sure there are no greenish brown stems poking from any berry, nor "bad" berries that were no perfect and unblemished. Once I had these two tasks completed, then next was up to my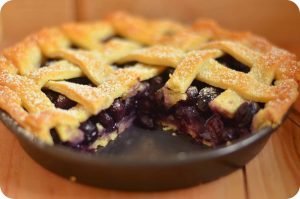 mother. She was a great pie maker!
Her pie dough was simple to make. It consisted of all-purpose flour, granulated sugar, salt, vegetable shortening, and lukewarm water.
2 cups all-purpose flour
1 1/2 tablespoons granulated sugar
a pinch of salt
2/3 cup vegetable shortening
5 to 6 tablespoons of lukewarm water
METHOD:
First mix in a large bowl your dry ingredients. Once thoroughly mixed, add the shortening. Use your fingers to pinch it so that the dry ingredients become a dough. Add slowly, a bit at a time, of the lukewarm water. Only add enough water to make your dough form a ball. Put it into the fridge, wrapped in wax paper, until you are ready to make your pie. It should harden after it has cooled in the fridge for about an hour.
To make your berry mixture, take about four cups of your blueberries and mix together with 1/2 cup sugar, and 6 tablespoons of tapioca. My mother would add a bit of apple juice to sweeten it, then not put as much sugar. Once you have these ingredients combined, take your cold dough out of the fridge and roll it out into the shape of your pie pan. Use a knife to cut the edge of your dough to fit the pie pan. Place your berry mixture over the dough.
I tend to cover my pies with another layer of dough. I pinch the edges together of both pie dough layers. You can make the edges "pretty" by using a fork pressed along the dough edges. I am lucky enough to have a pie chimney, also called a pie bird, vent, whistle, or funnel.) These chimneys are used to prevent the pie filling from bubbling up and leaking through the crust, as it allows the steam to escape from inside the pie.
There are many types of pies to bake. Discover more recipes by checking out our pie books!
Teeny's Tour of Pie, A Cookbook