Carpenter Library is proud to host an exhibition by local artist Jessi Cerutti entitled Proud Specimen: Artifacts From The Studio of Jessi Cerutti. Cerutti (MFA) is a St. Louis native whose work is an exercise in perception. We invite you to see Cerutti's work during the month of March in our west foyer. Here's a recent conversation we had with Cerutti about Proud Specimen:
Please tell us about something that has shaped your artistic perspective and aesthetic.
"Um, everything? Really it does feel like that lately. I always come back to history and memory and the idea that neither is always fixed--that perceptions change and the human brain is unreliable and so easily influenced by emotion, distance, hormones, or whatever. I think I'm always trying to understand those two main concepts as an artist. In the past I've made works that try to employ personal memory, to fill in gaps in history or collective memory. I think of those works as a sort of processing or attempt at telling a story, or fictionalizing reality.
Aesthetically I've always been inspired by our local built environment, probably since the architecture unit we had in fifth grade burned it deep into my subconscious. I also find that my professional work often seeps into my practice. I like to borrow museum presentation techniques and alter or subvert them. In the last several years I've been very interested in the archives we keep and the things that surround those archives or the ephemera that may be associated with them. I'm always fascinated with the backs of paintings or the envelope that held something important and thinking of ways we can display those things."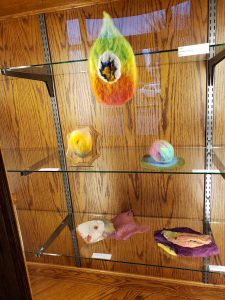 What have you created for your exhibit with Carpenter Library?
"The exhibit includes fourteen small fiber-based sculptures or 'specimen.' This body of work is partially an expression of not being in the studio for a while. The sculptures in the show are explorations of material and form that largely consist of wool and felted wool. I wanted to use the beautifully dyed wool to explore forms and concepts that are somewhat new and different for me, though as I was making these I found that I was drawing inspiration from several of my artist friends including Brandon Anschultz, Tuan Nguyen, Amy Reidel, Chris Lucas (my husband), and others. The works are assemblages of materials I had on hand and I worked to be resourceful in the studio, which limited and challenged me. In a way, I think of these as studies and beginnings of a larger body of work that will evolve into more complex and intricate works over time.
These works are playful and were fun to make, yet also allowed me to think deeply about my studio practice and why I want to make these objects. On a base level, I wanted to just use the wool to create something beautiful, yet kind of icky or repulsive. The more I thought about these objects, I found myself thinking about science fiction and imagining the future and how very real things like climate change that are happening in the world now will, at some point, make the future unrecognizable to our present selves. I think of these objects as being specimen collected from some unknown future time to be studied and used to understand what we have done to ourselves as humans, or at least as evidence of strange things that exist outside of our present understanding."
Why do you think it is important for people to experience art in public spaces?
"I have made a career in exhibitions and putting objects on display. There is so much to learn from experiencing art and objects in person that will never happen on a screen. The arts allow for us to understand and process our culture in ways that are not always easy for us to quantify. It is always my hope that the exhibitions I've helped present, including my own, provide impact and inspiration to even a small percentage of the folks that view it. These experiences allow us to connect to one another across time, place, and culture, and it's important that they are accessible and open to anyone, even those not looking for or expecting it."
If you would like to see this exhibit, please visit Carpenter Library's McDonald Street foyer.