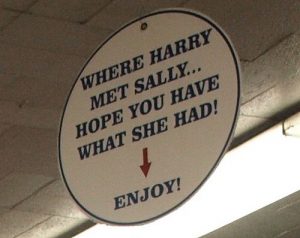 When Harry Met Sally is often considered to be the rom-com that forever changed the nature of rom-coms, traits of it infusing virtually every romantic comedy since its 1989 debut 30 years ago: 
A funny but pessimistic male lead paired with a neurotic but optimistic female lead? √
Quirky supporting characters who have a subplot about falling in love with each other? √
A climax that ends with someone running through the streets in order to confess their love? √
When Harry Met Sally opened in 1977, with the acrimonious first meeting of Harry and Sally during an 18-hour road trip from Chicago to New York City. Both at the height of post-collegiate pretentiousness, they butt heads over Harry's theory that men and women can't be friends without sex getting in the way. After periodic, accidental meetings during the next decade, Harry and Sally eventually settle into a comfortable camaraderie, building a friendship that eventually blossoms into something more.
That's why the film's pitch-perfect climax isn't about Harry and Sally falling into bed together, and their final kiss is more of a denouement than an exclamation point. Instead, the real emotional climax comes when Harry pushes back against Sally's idea that he's just saying he loves her because he's sad that he's alone. "It's not because I'm lonely," Harry explains, "and it's not because it's New Year's Eve. I came here tonight because when you realize you want to spend the rest of your life with somebody, you want the rest of your life to start as soon as possible."
With that sentiment in mind, Center for the Reader recommends its extensive lover-inspired collection. Here are just a few stories to get you in the mood for the month dedicated to romance:
Friends to Lovers by Christi Barth...As florist and co-owner of a successful Chicago wedding planning business, Daphne Lovell has been there for the happiest days of other people's lives. As for her own life? Well, it's hard to be perfectly happy when you're carrying a torch for your sexy, womanizing, and oblivious best friend. So when the lights go out on New Year's Eve, she seizes the opportunity to kiss him senseless. British expat Gibson Moore has a lot on his plate. The hotel he manages is being bought out, his family is crazy, and someone just kissed him in the dark. When the lights go on, he searches the room, trying to find the mystery pair of lips. He never thinks to ask the woman standing by his side. He's shocked when he discovers that Daphne is the woman he's been searching for. But Gib is also eager to act upon the attraction for her he's always fought to ignore. It takes trust to move from friends to lovers, and as Gib's work situation worsens, he is no longer sure he can risk the friendship he relies on most. It's up to Daphne to convince him that some things are worth fighting for.
Friends and Lovers by Eric Jerome Dickey...In this sexy, soulful tale of love, betrayal, and friendship set in modern-day Los Angeles, the lives of four young African Americans—two men and two women—are chronicled through the love and the laughter, as well as the heartache and pain of not-so-everyday life. A witty, honest portrait of contemporary mores and humanity, in which the gender gap isn't merely investigated, but celebrated.
My Lover, My Friend by Shirley Hailstock...Dr. Rosamund Albright could never stand by and watch someone in pain without helping. Evan Harper had been her best friend, but now the man was hurting. The Washington, D.C. speechwriter had come home to Lighthouse, Maine, to escape the demons that were chasing him. In doing so, he'd reawakened a secret yearning in Rosie that she'd buried long ago. But not even the desire he felt for her or the explosive passion they shared could break through the wall around Evan's heart. A barrier that prevented him from seeing that he was her chance to heal from a painful past
Friends and Lovers by Diana Palmer...They'd been close for years, but suddenly Madeline hungered for John in a new way. When they finally touched, passion set their souls on fire but their friendship turned to ashes. Now Madeline feared she was no more than a mistress to him. And John was tormented by desire for—and doubts about—Madeline's love. Yes, Madeline loved John. But would love sustain her as they made the sensual journey from friends to lovers?
Friends and Lovers by Tinnean...Tom Weber has always been gay, and while he might be short, he's the ultimate leather daddy who takes no guff from anyone. Jack Jackson is a big man who's never doubted he was straight. In fact, he loves women so much, he's married three of them. At different times, of course. However, in spite of their diverse sexual orientations, in spite of time and distance that has separated them over the years, the two men are best friends. Now, that friendship will be tested as Tom, having become intrigued enough to want to try bottoming, makes a request of his friend, and Jack agrees to fulfill it. After Tom gets what he wants, will Jack let their relationship go back to being just friends? Or will the two decide to forge something new and go from friends to lovers?