The World of Science Fiction Society ("Worldcon") issues the Hugo Award annually to the best literary creations in science fiction. The Hugo Awards, first presented in 1953 and presented annually since 1955, are the most prestigious awards for science fiction. The Hugo Awards are voted on by members of the Worldcon, an international literary society, which is also responsible for administering them. Shown here are the winners for 2018; follow this link to see the runners-up for Best Novel, Best Novella, and Best Graphic Story.
Best Novel – The Stone Sky - The Moon will soon return. Whether this heralds the destruction of humankind or something worse will depend on two women.
Essun has inherited the power of Alabaster Tenring. With it, she hopes to find her daughter, Nassun, and forge a world in which every orogene child can grow up safe.
For Nassun, her mother's mastery of the Obelisk Gate comes too late. She has seen the evil of the world, and accepted what her mother will not admit: that sometimes what is corrupt cannot be cleansed, only destroyed. THIS IS THE WAY THE WORLD ENDS... FOR THE LAST TIME.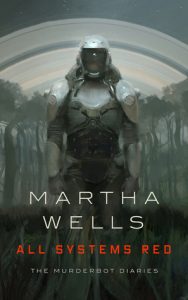 Best Novella – All Systems Red - "As a heartless killing machine, I was a complete failure. "In a corporate-dominated spacefaring future, planetary missions must be approved and supplied by the Company. Exploratory teams are accompanied by Company-supplied security androids, for their own safety. But in a society where contracts are awarded to the lowest bidder, safety isn't a primary concern. On a distant planet, a team of scientists are conducting surface tests, shadowed by their Company-supplied 'droid - a self-aware SecUnit that has hacked its own governor module, and refers to itself (though never out loud) as "Murderbot." Scornful of humans, all it really wants is to be left alone long enough to figure out who it is. But when a neighboring mission goes dark, it's up to the scientists and their Murderbot to get to the truth.
Best Graphic Story – Monstress, Volume 2: The Blood - Maika, Kippa, and Ren journey to Thyria in search of answers to her past... and discover anew, terrible, threat.
Best Series – World of the Five Gods – by Lois McMaster Bujold. According to Bujold's website, the internal chronology of the World of the Five Gods is: The Hallowed Hunt, Penric's Demon, Penric and the Shaman, Penric's Fox, Penric's Mission, Mira's Last Dance, The Prisoner of Limnos, The Curse of Chalion, Paladin of Souls.