On January 25, 2019, the New York Times published an obituary for Florence Knoll Bassett, who died at the age of 101. While you may not know her by name, you likely know some of her designs. An entrepreneur who created the modern look and feel of America's corporate office spaces, she was known for her uncluttered, free-flowing approach to workplace environments, as well as her use of textiles and sleek furniture classics that are still relevant today. 
A protégé of Ludwig Mies van der Rohe and Eliel Saarinen, she also worked with renowned architects Walter Gropius and Marcel Bruer. In the 1940s, she married Hans Knoll and over 20 years, built Knoll Associates into one of the most prestigious high-end design firms of its kind.  At Knoll, she was the creator and director of the Knoll Planning Unit, in addition to the design director for the development and production of Knoll's textiles, graphics and furniture. This planning unit became the driving force in Knoll's success and transformed the field of "interior design" from decoration to spatial architecture. While we may take this for granted today, in the 1950s, spatial architecture was almost completely dominated by men and was not as closely tied to interior design. She was a rigorous planner and her ideas were rooted in practical needs, eventually developing her signature look while applying design principles to space configuration in office space. At the time, this was a radical departure from the traditional services interior decorators were offering, as well as what other textile and furniture showrooms focused on (which was mainly selling objects). Knoll Bassett took the approach of designing an interior space as a challenge to go further. "An intelligent interior plan goes further than the furnishings which fill the space," she said. "It strikes at the root of living requirements and changing habits. Planning involves economics, technical efficiency, comfort, taste, and price."  In addition to helping her corporate clients select colors, textiles and furniture, she also helped them choose modern art by a variety of artists, including Paul Klee and Alexander Calder.
Besides doing her own planning, she recruited some of the world's best postwar designers and acquired their designs, paying them commissions and royalties (and giving them full credit), so that Knoll Associates could replicate their designs. If you've seen a Barcelona chair in an office or lobby setting or a cyclone table, you can thank Florence Knoll.  You may not have thought much about those designs, or taken them for granted, but those designs were the result of one hardworking, pretty amazing woman.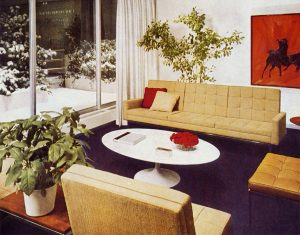 At the height of her career, she resigned from Knoll in 1965 at the age of 48. However, in her time at Knoll, she had designed thousands of office interiors, raised the standards and ethics for interior design as a profession, and promoted the "open office" workspace through a total design approach. She was also one of the few people who have received the top honors from all the American professional organizations in architecture and design: AIA, ASID, IIDA, and IDSA.
If you would like to read more about Florence Knoll, the Knoll site has a wonderful designer bio about her.  We also have Knoll: A Modernist Universe by Brian Lutz, as well as several books on office design, including Herman Miller Office by Leslie Pina, The Creative Workplace, Office II, and others.  Please ask any of our friendly staff in the Fine Arts Room for more information!
Information from this article was pulled from resources including her obituary in the New York Times, the article "The Wisdom of Florence Knoll" by P. Makovsky in the November, 2017 issue of Metropolis: Architecture Design and the article "Florence Knoll: One of the most influential designers of the 20th century would have turned 100 this year," in the February/March, 2018 issue of Treasure (this article is about the anniversary of her retirement, not about her death in 2019).