Unfortunately, this schoolyard chant doesn't seem to concur with the popular opinion on sequels. We see it year by year in Hollywood: a blockbuster gets fast-tracked for a follow-up, with the expectation that one success will lead to a second cash cow. Novels seem destined to the same fate, with legendary tales being followed by lesser known (or less-loved) sequels. We could spend all day, and thousands of words, trying to decipher why #2 doesn't always garner the same response as #1, but we'd rather you decide by comparing for yourself with this list of less-popular sequels.
Closing Time by Joseph Heller
Heller started his writing career by publishing a series of short stories, but he is most famous for his satirical novel Catch-22, published in 1961. Set in the closing months of World War II, Catch-22 tells the story of a bombardier named Yossarian who discovers the horrors of war and its after-effects. Thirty-three years later, in 1994, Heller wrote Closing Time, the sequel to Catch-22. Yossarian returns--older, if not wiser--to face a new foe.
Scarlett by Alexandra Ripley
Gone With the Wind, published in 1936, winner of the Pulitzer Prize and one of the bestselling novels of all time, has been heralded by readers as "The Great American Novel."  Authorized by the Margaret Mitchell's estate, Ripley published the sequel, Scarlett, in 1991 which was then adapted as a miniseries in 1994.
Gump & Co by Winston Groom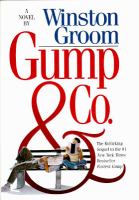 In his 1986 celebrated novel, Forrest Gump, Groom created an American hero, a lovable man for all ages. In this 1995 sequel, Forrest guides readers through the 1980s, featuring adventures which include a dubious recipe for New Coke, another crack at pro football, and an encounter with Oliver North. Groom published this novel following release of the Academy Award-winning 1994 film, leaving him to struggle between writing a sequel to his 1986-novel-Forrest or the 1994-film-Forrest. 
Go Set a Watchman by Harper Lee
This novel created a lot of controversy when it was allegedly discovered and announced by HarperCollins Publishers in 2015 as a "new" Harper Lee novel. Go Set a Watchman was originally presented to Lee's editor in 1957 and revolves around 26-year old Jean Louise (Scout) visiting her hometown of Maycomb during the modern civil rights movement. It was then rewritten into To Kill a Mockingbird, and the original was laid aside indefinitely. Arguments over its status as a prequel versus sequel still occur, as well as over Lee's lack of control or involvement in its publication. Despite all this, Go Set a Watchman had first day sales of 700,000 copies, making it the "most successful adult novel ever published in America."