Chronicling America (CA) is a joint venture of the National Endowment for the Humanities and the Library of Congress. It is an attempt to digitize as many of America's historic newspapers as possible, and make them available for free on the Library of Congress' website. They have so far managed to digitize all or part of 2,538 newspapers (nearly 13 million newspaper pages covering most but not all states). Coverage can include the years 1789-1963 (most ends in 1922 or earlier for copyright reasons). Basic Search allows a search by state, time period, and keyword. Advanced Search allows Boolean searches of a particular newspaper.
The Genealogy Room gets regular requests from people researching foreign-born ancestors. These researchers are often interested in learning if a foreign-language newspaper covered the geographic area that they are researching. CA offers an easy way to discover what foreign language newspapers it has digitized for a particular state.
On CA's landing page, select All Digitized Newspapers, 1789-1963 (highlighted in red below).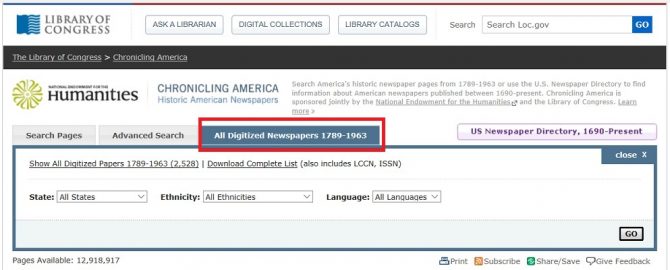 Next select State and Language (highlighted in red below).
This search produces a list like the one below.
You can also do a nationwide search for newspapers published in a particular foreign language (CA allows searches for 19 different languages). Search as above, except that you specify only a language; you do not specify a state. Your result will look like the list below.
You can browse a newspaper of interest, and can view PDF or text versions of that paper. You can then download items of interest.