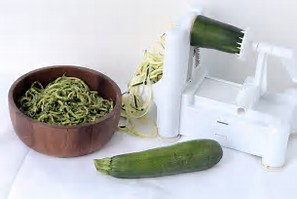 I freaking love my spiralizer! A spiralizer is an easy-to-use plastic tool that turns a myriad of fruit and vegetables into "noodles" or curly-cut spirals. It zips through everything from zucchini noodles to curly fries, and it takes less than a minute to sprialize almost any firm veggie or fruit.
I, like many, am trying to find easy, healthy swaps in my diet to replace heavy carbs. Also, like many, I have a child who could always use a few more vegetables in her diet. Enter the zucchini noodle. I place my spiralizer on the narrowest setting for spaghetti-like noodles and in less than two minutes, I have noodles for four people. When you need a super-fast dinner before or after workouts, classes or sports, you can't beat a bowl of zucchini noodles marinara with veggie meatballs. It takes 20 minutes for a bowl of healthy goodness.
Here are two of my favorite, easy spiral recipes:
Zucchini and Meatballs Marinara
4 medium zucchini
A bag of frozen broccoli cuts (optional)
1 jar of marinara (I love Trader Joe's)
Veggie meatballs (Again, I use Trader Joe's Meatless Meatballs)
Shredded Parmesan or Italian blend cheese (optional)
Preheat the oven and prepare meatballs on a cookie sheet according to the package directions. It usually takes about 18 minutes.
Spiralize the zucchini and place into a medium bowl.
Heat spaghetti sauce and half a bag of frozen broccoli cuts in a saucepan on medium heat for about 5 to 8 minutes.
Toss zucchini noodles in a pan with 1 teaspoon of extra virgin olive oil for about 4-5 minutes.
Place the zucchini noodles onto a plate, add sauce, veggie meatballs and cheese.
Done! Easy peasy!
You can easily use the same recipe a with yellow squash, pesto or whatever floats your boat. Have fun and play around with different things.
I also want to share my recipe for an amazing snack or side salad with spiralized apples that my four-year-old just loves and even helps make.
Waldorf-inspired Spiral Apple Salad
1 apple
1 teaspoon of honey
¼-to-½ cup of plain yogurt
1 Tablespoon of raisins or dried cranberries (you can also use both)
1 Tablespoon of walnuts
Spiralize the apple on the narrowest setting. Mix everything together. It takes less than 5 minutes and taste amazing!
Spiralizing is so easy and summer is the season for fresh, fast dishes. For some more inspiration, check out this book in our catalog:
Every recipe in this book is a winner. It's a great beginner's guide to spiralizing, and it uses some veggies that might be outside your normal repertoire.
So, grab your shopping bags and head off to the Farmer's Market to buy up all those seasonal veggies. Get creative. You will feel fresh and fabulous!
This week's guest chef is Aarya, Volunteer& Special Events Coordinator for SLPL. She enjoys an active lifestyle with emphasis on nutrient-dense, whole foods, while indulging in the occasional well-crafted cocktail or decadent dessert.