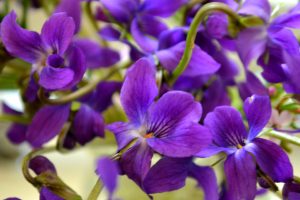 Growing up on a forestry station, with a mother who was an economic botanist and taught the military survival foods, gave me a great understanding of domestic and wild flowers that can be eaten. As with eating anything, particularly plants and mushrooms, always only eat what you know is edible. Do not just taste some because the animals or birds are eating them. They can be still poisonous to people.
Barash (1993) provides ten rules of edible flowers:
Eat flowers only when you are positive they are edible.
Just because it is served with food does not mean a flower is edible (see Rule 1).
Eat only flowers that have been grown organically.
Do not eat flowers from florists, nurseries or garden centers (see Rule 3).
If you have hay fever, asthma or allergies, do not eat flowers.
Do not eat flowers picked from the side of the road. They are contaminated from car emissions (see Rule 3).
Remove pistols and stamens from flowers before eating. Eat only the petals.
Not all flowers are edible. Some are poisonous.
There are many varieties of any one flower. Flowers taste different when grown in different locations.
Introduce flowers into your diet the way you would new foods to a baby – one at a time in small quantities.
If you are walking through the woods in the springtime, or have an invasion of them in your lawn, violets make a very nice decoration to your plate. They may be candied and used as part of your cake decorations, or simply put on your dessert plate. Pansies are another beautiful flower that can make your meal more appealing. They are also of the Violet family (Violaceae). Both violets and pansies thrive in cool weather. You may consider adding their dainty, fragile flowers to a fresh salad plate of arugula and Boston, or another leaf lettuce. Try adding them to your favourite ravioli recipe to give a flowery taste to you dinner. If your dough is nice and thin, you will surprise your dinner guests with seeing the violet or pansy in their ravioli.
Nasturtiums, of the Nasturtium family, are native to Peru, where they are perennial. Here in St. Louis they are annuals. I always know that if I buy a package of nasturtium seeds, and throw them over my garden soil, sprinkle half an inch of soil on top, I will be guaranteed that they always germinate and provide my garden with bright flashes of orange and yellows. Not only are they so colourful, but they are also edible. They love full sun and can easily grow in poor soil. My recollections of childhood included picking bright nasturtium flowers and putting them inside empty clear wine bottles and filling them up to the top with heated white vinegar. Great homemade gifts to family and friends in the winter time!
Borage, which have blue-purplish flowers, is another beautiful flower that I love to have growing in my garden. I can be spontaneous and nip off a few flowers and place them on some cool, jellied consommé soup. The brilliant blue, star-shaped flowers grow in clusters between April to November. They are very attractive to bees. These flowers are often candied. I also enjoy putting them into ice cube trays, topped up with a bit of fruit juice, and then frozen.
Always remember that fresh flowers can brighten up a meal. They are delicious and colourful in arugula and other salads. By remembering the above ten rules of eating edible flowers, you and your guests can enjoy flowers in more ways that in a vase sitting on your dinner table!
Check out these books:
Barash, Cathy Wilkinson. 1993. Edible Flowers: From Garden to Palate. (Golden, CO: Fulcrum Publishing)
Brown, Kathleen. 2011. 25 Recipes and an A-Z Pictorial Directory of Culinary Flora. ( London: Aquamarine)
Castle, Coralie. 1994. Cooking from the Gourmet's Garden: Edible Ornamentals, Herbs, and Flowers (Santa Rose, CA: Cole Group)
Morse, Kitty. 1995. Edible Flowers: A Kitchen Companion With Recipes. (Berkeley, CA: Ten Speed Press)
Trail, Gayla. 2012. Easy Growing: Organic Herbs and Edible Flowers From Small Spaces. (NY: Clarkson Potter).