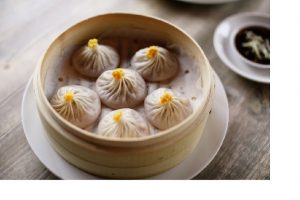 When translated from Cantonese 'Dim sum' means 'touch the heart' or 'little bit of heart'--with such a lovely meaning, who could not enjoy this dish? Dim sum is a Chinese style cuisine, typically Cantonese.
There are hundreds of varieties of dim sum.  Some are savory dumplings (steamed or fried), pancakes, buns, or noodles. They may be filled with vegetables or meats.  Other dim sum are sweet pastries. Are you interested in tasting some of the many dim sum varieties?
Part of the fun of a dim sum meal is its presentation.  In China, servers push carts around the room that are full of plates with different dim sum pastries.  Instead of choosing all the pastries at once, diners select different ones throughout the meal.  Sweets are not saved till the end of the meal, but rather mixed with the savory options. At the end of the meal, the number of plates are counted and the bill is calculated. 
Some typical dim sum selections that are delicious to eat, include stuffed crab claws (Yung hai kim), stuffed bean curd (Yung dau fu), stuffed lotus leaves (Nor mai gai), scallion pancakes (Chung Yau bang), pork buns (Guk char siu bau), dumplings (sui mai), and shrimp dumplings (har gau).
Learn to experiment with the recipes from these titles from or digital collections.
Review provided by OverDrive
With its small plates and endless assortment of dishes, dim sum is an increasingly popular way to do brunch. For those new to this fun feast, or regulars looking to try a different dish, Dim Sum is the ultimate guidebook to this traditional Chinese meal. This handy guide identifies the 50 most popular dim sum dishes with full-color photographs, short descriptions of the ingredients, the names of the dishes in English and Cantonese, and how to pronounce them.
Review provided by Hoopla
Kenny Lao has been making dumplings for 30 years-in homes, food trucks, and restaurants across America. He has made dumplings at large family parties, in professional kitchens with Michelin-star chefs, and even with rap mogul P. Diddy. In his first cookbook, Lao reveals how to make the perfect dumpling and host amazing dumpling parties. Hey There, Dumpling! features 100 recipes covering classic Asian and modern flavors, including Pork and Napa Cabbage and Spicy BBQ-Glazed Beef dumplings, mix-and-match tangy dips, crispy salads, delicious noodles, and festive drinks. With 50 color photographs, graphic step-by-step tutorials, and Lao's accessible approach to the kitchen, you'll be inspired to make dumplings a regular for weeknight meals and a star at your next dinner party.
Review provided by OverDrive
From one of Eater's 38 best restaurants in America—which has been hailed by the New York magazine, Michelin Guide, and more for serving the freshest dumplings in New York City—comes the ultimate Chinese cookbook with 60 dumping recipes and dim sum-like sides. New York Times critic Pete Wells calls Helen You "a kind of genius for creating miniature worlds of flavor" and, indeed her recipes redefine the dumpling: Lamb and Green Squash with Sichuan pepper; Spicy Shrimp and Celery; Wood Ear Mushroom and Cabbage; and desserts such as Sweet Pumpkin and Black Sesame Tang Yuan.
Review provided by Hoopla
Discover how easy it is to create mouthwatering Chinese cuisine in your own kitchen with this easy-to-follow Chinese cookbook. Chinese cooking is easily made as most ingredients can be readily purchased from general food stores, supermarkets and even online! Chinese Cooking Made Easy features a selection of 55 delicious Chinese dishes that are easy to prepare at home, and light and healthy too. Learn to use the wok to cook all kinds of Chinese food: from stir-frying to deep-frying, braising to making sauces, this versatile pan is a staple in Chinese cooking. Clear recipes, step-by-step photographs and a glossary of ingredients ensure fantastic results every time! Enjoy Northern Chinese classic favorites...