Posthumous publications are a polarizing topic in the literary world. When an author dies, leaving behind a manuscript, the work often remains unfinished. However, not every posthumous publication's story is the same: some were just scraps of ideas left behind as crumbs of inspiration, some authors knew of their impending deaths and requested the help of friends and family for completion, and still other writers never desired--or vehemently resisted--publication of their work. The proper course of action when considering publishing posthumously, without explicit consent, is subject to ethical debate: are these unconventional publications a violation of the author's wishes and legacy, or is depriving the world of a potential masterpiece the greater crime? Despite differing opinions when unfinished manuscripts are published, the world is nonetheless offered either a glimpse at the creative process forever paused or a collaboration between the living and the dead that can never be repeated. With a topic composed of moral shades of gray, it is important to consider the unique circumstances of each case. Contemplate these posthumous publications and their circumstances to decide for yourself: is publication a noble tribute or an opportunistic scheme?
The Trial by Franz Kafka
Before his death in 1924, Kafka wrote a letter to his friend Max Brody and requested that all his unfinished manuscripts be burned. Brody did not comply, and today, The Trial is considered one of the greatest works of the 20th Century.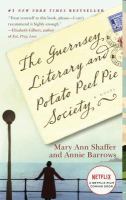 The Guernsey Literary and Potato Peel Society by Mary Ann Shaffer
Shaffer was thrilled when her manuscript was accepted for publication. The book's editor, however, requested some considerable rewriting, which Shaffer was unable to address due to a dramatic decline in her health. Prior to her death on February 16, 2008, Shaffer requested that her niece, Annie Barrows, an already established children's literature author, finish the editing and rewriting to fulfill Shaffer's life-long dream to "write a book that someone would like enough to publish."
The Mystery of Edwin Drood by Charles Dickens
When Dickens died on June 9, 1870, he left The Mystery of Edwin Drood unfinished; in fact, only six of the twelve projected parts had been written. Although Dickens had included touches of the gothic and horrific in his earlier works, Edwin Drood was his only true mystery story. He left few clues as to how he intended to end the work, and the solution itself remains a heavily speculated mystery.
Suite Francaise by Irène Némirovsky
By the early 1940s, when Ukrainian-born Irène Némirovsky began working on what would become Suite Française--finishing the first two parts of a planned five-part novel--she was already a highly successful writer living in Paris. But she was also Jewish, and in 1942 she was arrested and deported to Auschwitz; a month later she was dead at the age of thirty-nine. The handwritten manuscripts of her unfinished novel were hidden in a suitcase that her daughters took with them into hiding and eventually into freedom. Sixty-four years later, at long last, we can read Némirovsky's literary masterpiece.