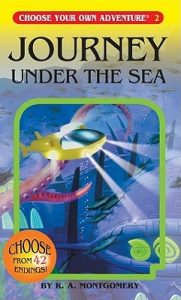 There was this series of children's books years ago that asked readers to choose which path to take at the end of every chapter. They were provided two to three choices of what to do, and the story's end was determined by the choices selected. These books were generally mystery, science fiction, fantasy, or horror novels. It was a fun way to read, putting the power of storytelling into one's own hands. It gave readers the opportunity to make decisions and give them a bit of control. Narrative control can be a hot topic, especially when it comes to popular fiction. Fanfiction, for instance, is one method of control of a well-known, licensed work. These days, it can be easy to forget that the author is still the creator of their work—the creator of the world that a fan would attempt to take control of.
But the thing about fiction is that one can interpret many things when reading a given work; not everyone will have the same perspective as the person who wrote the work or the same intentions.
Another issue to consider is the "escapist" element of a story. Why do people read fiction? Many readers cite the ability to escape or to experience something that they normally wouldn't experience in their own life. So a book, say a romance that allows the reader to live vicariously through the protagonist, is often a popular genre to follow, as are thrillers. My Lady's Choosing is an interactive historical romance novel where YOU—the reader—are a character. You have four options of a romantic partner, whose story line you can choose to follow or dip out on later in the story. Get it? These are marketed towards adults this time around (there are some pretty steamy scenes in there).
If that tickles a fancy, then be sure to check out these other books available at Central Library. And if you want to get nostalgic, we still have many books from the original Choose Your Own Adventure series. Happy travels!