Working with the Library's Archives for the last seven years, I can't count the number of times I've been completely captivated by the rich history of this institution. It is great fun to thumb through scrapbooks and meeting notes to learn more about the initiatives and programs of eras gone by and the dedication of SLPL librarians and staff behind those projects.
One such venture was Librarian Charles Herrick Compton's introduction of Great Books Discussion groups to the citizens of the region. Compton served as Chairman of the St. Louis Great Books Program from its impressive debut in 1948, to the day before his death in March 1966. His tireless work as not only the fledgling organization's chief, but co-discussion leader at biweekly meetings held at Central Library, became his passion late in life.
Born in Palmyra, Nebraska and educated as a librarian at New York State Library School in Albany, Compton had been with St. Louis Public Library since 1921. Previously, he'd led the Library War Service and Seattle Public Library. He ascended to Head Librarian in 1938 upon Arthur Bostwick's retirement. (more about Bostwick's incredible legacy in a forthcoming post!)
The first proposition of a Great Books Discussion program for the St. Louis area emerged in September 1947 when Ray Wittcoff, a representative of the newly founded Great Books Foundation, approached St. Louis Public Library. Groups had already premiered in a number of major cities including Chicago, Cleveland, Detroit, Indianapolis, Seattle, and New York. Initially, Compton was uncertain if the Library was in a position to embark on another major undertaking – the Library was already focused on building branches in underserved, but now heavily populated western and northern neighborhoods, as well as increasing the size of the collection. In fact, 1947 saw the Library's book holdings reach 1,000,000 – a celebrated milestone. Yet, Wittcoff was persuasive. Compton recalled in his memoirs, "The sales talk was too good. I have since been thankful that I succumbed. Here I was 67 years old and did not expect to have any more thrills in my life."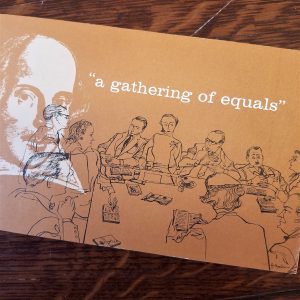 The Great Books Movement, led by University of Chicago philosopher/educator Mortimer J. Adler and charismatic Chancellor Robert Maynard Hutchins, was founded on the belief that everyone, regardless of their background, was capable of understanding classical western literature outside of an academic setting. In How To Read A Book: The Art Of Getting A Liberal Education, Adler emphasized the link  between active, disciplined reading and the ability to think clearly and critically. He writes, "Without free minds, we cannot act like free men." Thus, the discussion groups were born to encourage people from all walks of life to not only read, but openly debate the classics – from Homer and Plato, to Proust and Joyce – and look for ways to apply the texts to modern life.
Charles Compton was also a long-time champion of adult education, particularly in a library setting. Speaking to members of the American Library Association in West Baden, Indiana in 1928, he said, "The relationship between the librarian and the reader should be the easiest and most agreeable, not of a superior telling an inferior what books ought to be read, nor of a teacher instructing a child, but of two equals exchanging points of view and information on books." As he finished his term as President of the ALA, Compton told conference attendees in Denver in 1935, "If librarians have any conviction it is their belief in books as a civilizing force." Despite living in a "ruthless and senseless world," continued Compton, "my faith in democracy is unweakened, my belief in libraries essential in a democracy is unshaken. Libraries will be a part in making of the new and better world which we all deserve."
So it's not surprising that, according to Compton's Librarian's Report for 1947, the most important activity of the year was the Library's forthcoming participation in the budding national Great Books program. Immersed in the development and launch of the program from its very first local meeting, Compton believed it "might prove to be the most important event in St. Louis in 1948." 
In November 1947, seventy-five men and women in the St. Louis area had completed instruction as discussion moderators at the Training Institute for Leaders led by Wittcoff and Milton Mayer, also from the Great Books Foundation. By early January 1948, numerous Great Books Discussion Groups had been organized in St. Louis City and County, with their first bi-weekly meetings scheduled for later in the month. According to the South Side Journal, "To date, 35 groups have been organized in business firms, libraries, schools, churches, clubs, and social centers." That number would grow to an unexpected fifty-eight groups that first year and more than 2,000 enrolled participants. 
Compton attended training classes and agreed to lead a group at Central Library with his long-time friend, accountant Ernest Boyd. Compton wrote of Boyd, "His reading background equals any man I ever knew." That first year there were five groups meeting at Central Library alone. The Cabanne Branch on the near north side had three groups, and Carpenter Branch on the city's south side had two groups. Discussion groups were meeting all over the city and county. There were multiple groups at Clayton Library, Kirkwood Library and First Unitarian Church, and meetings forming at Concordia Seminary, John Burroughs School, and Webster Groves High School, to name a few.
Books that were studied that first season in St. Louis, and in other newly launched programs, included The Declaration of Independence, Apology and Crito by Plato, Antigone by Sophocles, Aristotle's Politics, The Gospel according to St. Matthew, Machiavelli's The Prince, Macbeth by Shakespeare, Adam Smith's The Wealth of Nations, selections from The Federalist papers, the United States Constitution, Thoreau's Civil Disobedience and Walden and Communist Manifesto by Marx and Engels. Oftentimes assigned readings were excerpts rather than an entire volumes. Nonetheless, the amount of material expected to be digested in the two short weeks between meetings was considerable.
Compton created extensive outlines for each reading and made them available to all Great Books leaders for guidance. He and Boyd prepared for each meeting by dining together beforehand. Following instructions from the Leadership Training Institute, they encouraged everyone to share their ideas with little personal input from the two leaders. Moderators were also encouraged to start arguments looking for differences of opinion. For instance, when discussing Plato's Apology and Crito, Compton, as provocateur, would ask, "Can a state afford to tolerate gadflies, trouble-makers, soapboxers, chronic dissenters? Was Hitler a gadfly in Germany? Do we have any gadflies in the United States today? Are the Democrats gadflies when the Republicans are in power?" It was Socrates who compared his role in Athens to that of a gadfly who attaches itself to a horse – an irritant and provocateur. It was no coincidence that The Great Books Foundation's newsletter was titled The Gadfly.
Not everyone was an admirer of Great Books discussions as a development in adult education, however. When Chicago psychiatrist Jules H. Masserman, disparaged the movement as a "regrettable form of escapism" and "medieval scholasticism" in a time when new knowledge and action was needed, Compton came to its defense. Atypically annoyed, given his even-tempered nature, Compton countered with a letter to the St. Louis Post-Dispatch. "Poor Aristotle! Poor Plato!" he began, "At last after more than 2,000 years they have been put in their place by a wise man of today. Now we know that the writings of Plato and Aristotle are merely escape literature – a substitute for mystery thrillers."
After retiring from St. Louis Public Library in 1950, Compton continued to fulfill his commitment as the Chairman of the St. Louis Committee on Great Books and co-discussion leader. Under his new honorary title, Librarian Emeritus, he contributed the yearly statistics and developments of the organization to the Library for inclusion in its annual reports. The St. Louis Great Books movement lost much of its initial momentum in the ensuing years, yet continued to have enthusiastic attendees. Compton described his experience as co-discussion leader as "vital and fruitful" even with falling enrollment and disbanding groups.  The city also continued to hail the program, and Mayor Joseph M. Darst proclaimed September 17, 1950 "Great Books Day," declaring, "Whereas, in this time of world crisis it is important that we rededicate ourselves to the great principles which form the basis of our Western Civilization…"
Compton celebrated the "diversity of opinions, in beliefs, in personalities of the members," noting that those differences were "what makes our group alive and stimulates discussion at its best."  In 1951, his and Boyd's Central Library group was in in their fourth year with twenty-five dedicated members. Among the participants were nurses, teachers, lawyers, secretaries, and of course, other librarians. He wrote, "One point I would emphasize: these discussions are not highbrow, far from it. The interplay of seriousness and humor is delightful. The exchange of strongly different opinions always without heat." 
Throughout the 1950s, St. Louis averaged approximately twenty Great Books groups. Undoubtedly, the advent of television played no small role in dwindling membership, with 500,000 sets in the metropolitan area in 1953.  Yet, the Library was optimistic about the prospect of a local educational station and reaching readers through the exciting new medium. Those hopes were realized by the launch of KETC, and by 1955, "Speaking of Books," a St. Louis Public Library program, was airing twice a month.  Two more television shows, "Bookmarks" and "My Favorite Reading" aired every week in 1957. Other Library developments included a very different venture by the Adult Education Council, "Understanding Our World Neighbors."  Clearly, the times were changing.
In 1961, Great Books of St. Louis celebrated the eight leaders who had been with the organization since its inception fourteen years earlier, among them Compton and Boyd. It was also the year Compton would relinquish some of his responsibilities with the appointment of Fred M. Reichman as co-chairman.  Five years later in 1966, Compton would succumb to a heart attack and the program would limp along briefly before fading away.
Great Books groups were to Compton "a microcosm of what we would like the world to be." His group represented "humility, tolerance, intelligence, an inquiring mind, a sense of humor, and a deep desire to understand man as an individual and as a political animal." For Compton and others, applying the knowledge of the past to the problems of the present promoted liberty and affirmed American ideals.
As always, if you'd like to learn more, please schedule a visit in Rare Books & Manuscripts at Central Library by calling 314-539-0370.