Either you like them or you don't! I grew up with my mother growing her own vegetables. Broccoli and cauliflowers were two staples in our garden during the late summer months. Where I lived, that meant August!
Cauliflowers is a variety of the cabbage family (Brassica oleracea.)  The word
"cauliflower" comes from the Latin cauli - (meaning stem or stalk) and flor (meaning flower.) They are part of the Crucifereae family, which means that their flowers are in the shape of a cross. Cauliflowers consist of a short thick central stalk topped with a white hemispherical head of closely packed immature flowers, surrounded by long green leaves.
They are native to the Mediterranean and Asia Minor areas, where they have been cultivated in these areas since at least 600 B.C. The Moors introduced it to Spain in the 12th century. Then it found its way to Europe and England via trading routes. Apparently, Mark Twain once said,"Cauliflower is a cabbage with a college education."
When you select your cauliflower at the grocery store, look for one that is unblemished. When you get home, leave it unwashed and refrigerate. It will last for two to three days in your fridge. Also, it is best not to cook cauliflower in an aluminum or iron pot, as contact with these metals will make it turn yellow, brown, or blue-green.
Cauliflower is at its peak from late summer to the fall.  This is when you will find it cheapest, as they are plenty. When there was a frost in California earlier this year, the cost of cauliflowers rose to over $8.00 a head!
Currently, cauliflowers now are bred in different sizes and colours. We can find miniature  6 inch cauliflowers, orange, green, and purple cauliflowers, besides the standard white cauliflowers. The miniature cauliflowers have also made their way into the restaurant trade, where they are offered as specialty menu items.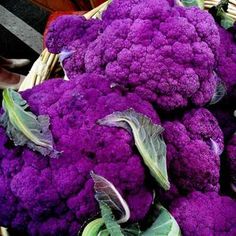 I grew up eating cooked white cauliflowers. My mother would steam it and serve them with butter, which would nicely melt on top of the cauliflowers. If you over cook your cauliflower, beware, you may be eating cauliflower mush! Steaming I find is the best way to cook cauliflower to prevent them from getting waterlogged.
It is so exciting to now have colour options when growing or buying your cauliflower! Whatever colour you choose, cauliflower can be served raw as a crudite, pureed, roasted, or steamed. I enjoy microwaved the broken florets and then browning them on a cast iron frying pan. I cook first some thick slices of bacon, to have a nice flavour, then add the steamed cauliflower florets. Yum!
I love to add curry and a bit of cayenne to my cauliflower when I brown it on a cast iron frying pan. However, because of the yellow colour of curry, stick to using the white cauliflower for this dish. You will discover that cauliflower is great for picking up natural sauce colours. Freshly chopped coriander will offer a greenish colour, turmeric a bring yellow, and curry a darker yellow. They are all worth waiting for at the dinner table!
Of Cabbages and Kings Cookbook